How to Plan a Sustainable and Eco-Friendly Beach Party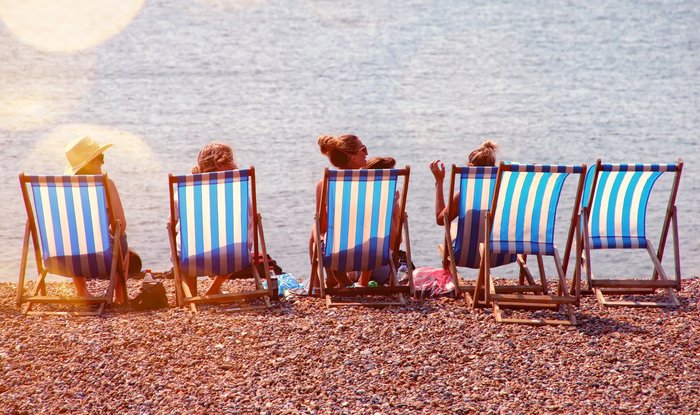 How to Plan a Sustainable and Eco-Friendly Beach Party
When it comes down to it, there is only one thing better than enjoying a day at Hermosa Beach.
Enjoying a day at Hermosa Beach with your family and friends of course!
Here at Beach Bound, we specialize in getting people on the beach and having fun with as little stress as possible. Most days, that means providing Hermosa Beach's fastest and friendliest bike and beach rentals, but today it means helping you throw the best beach party possible during your visit to Hermosa Beach!
Check out our list of beach party tips below to start planning your Hermosa Beach party, and don't forget that Beach Bound delivers beach toys, gear, and other supplies to get your party started!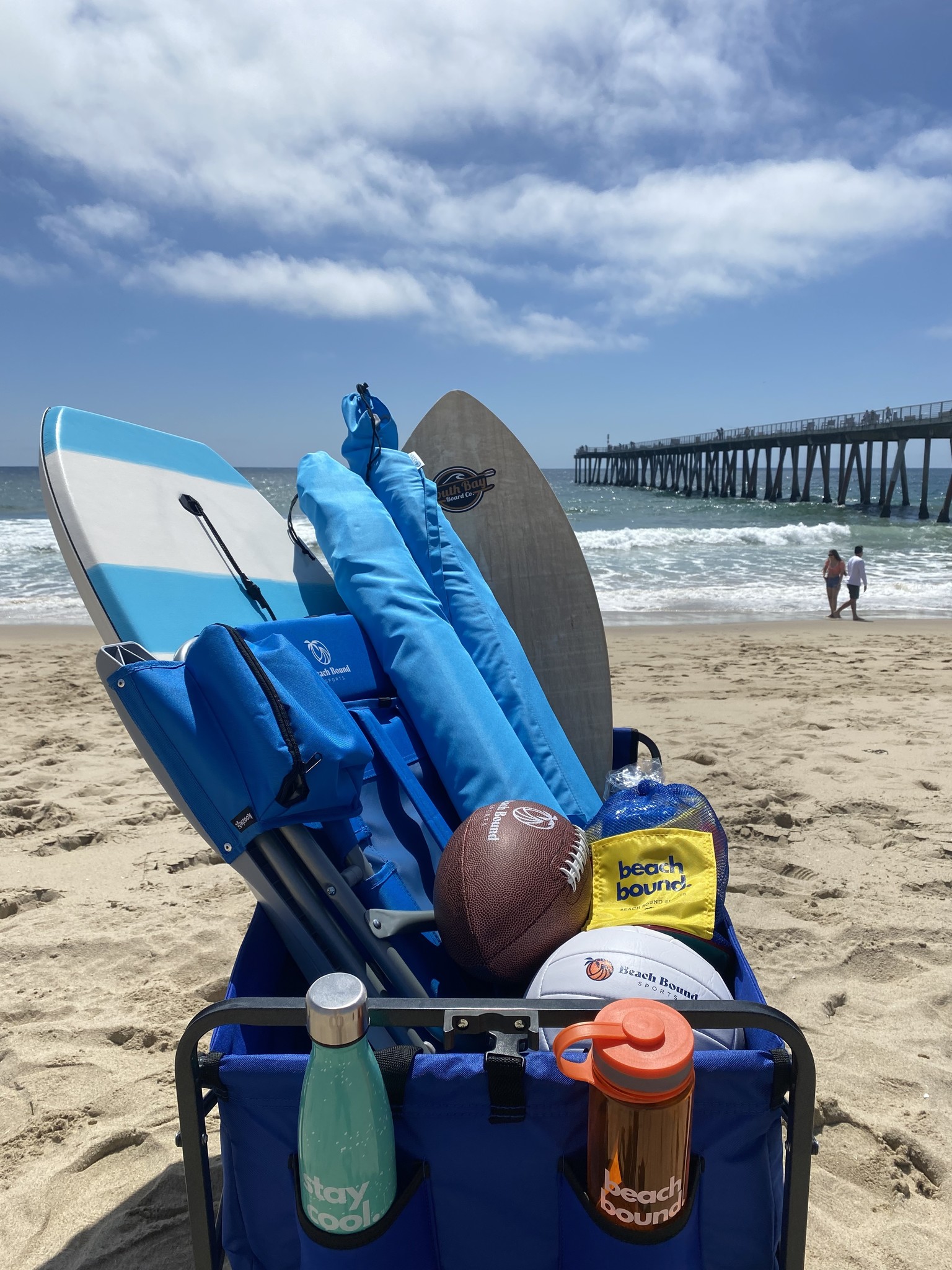 Start by Checking Local Laws and Weather
Before you step foot on the beach, you'll need to know what's allowed on the sand and what to expect from the weather.
Checking a weather forecast is easy but weather at the beach can be unpredictable, so make sure to continue to check the forecast from the day you decide to have your party up to when you step on the sand. You should also be aware of local laws that define proper use of the beach. For example, in Hermosa Beach drinking alcoholic beverages while on the Strand or Beach is not allowed. Also, building a fire of any type or shooting off fireworks is prohibited in Hermosa Beach.
Click here to see the full list of Hermosa Beach and Strand regulations.
Bring Shade and Baby Powder
Don't forget the umbrella! Protect everyone at your party and let the party go on all day, an umbrella or shade structure makes it easy to take a break in the shade and stay energized and protected from that hot sun. That's why we deliver beach gear, like umbrellas, to Hermosa Beach!
If you're confused about why you should bring baby powder to the beach though, then your beach trips are about to change forever. 
Everyone loves playing and relaxing in the sand, but no one loves tracking it in their car, home, or wherever they're going afterwards. Instead of trying to get as much sand off as you can with a shower before leaving the beach, apply baby powder to any sandy areas of your body and watch the sand roll off! Since baby powder absorbs the moisture that causes sand to stick to our bodies, any sand that touches it will fall off your skin much easier!
Don't Forget the Refreshments!
Sand, wind, and food don't mix well, so make plans around simple grub to share. Also, beach parties without cold drinks are a total bummer. Don't forget a cooler, ice, and reusable cups! Make sure that whatever you plan on storing your drinks and ice in has wheels or is easy to transport so that you don't wear yourself out before the party starts! We have a stylish and cool cooler option at Beach Bound Sports, check it out!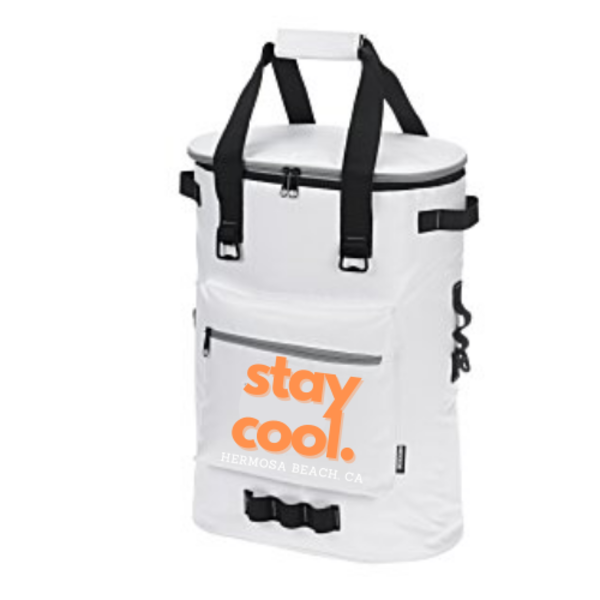 .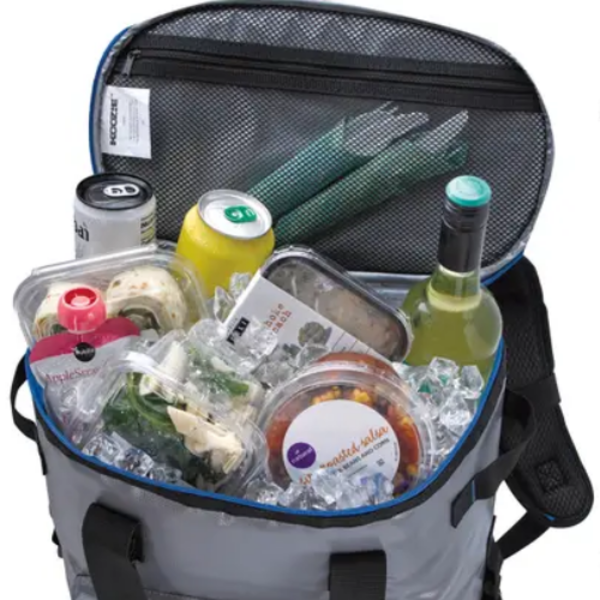 Think Eco-Friendly! 
Don't be the group that leaves trash behind!  Be conscious of your impact on our beach environment and the ecosystems that depend on you to keep it healthy. We have few tips for you:
Pass on Plastic Straws
Plastic pollution is a massive, world-wide problem. The Last Plastic Straw, a movement to eliminate single-use plastic, reports that 500 million plastic straws are used each day in the United States alone. You can be part of the solution by eliminating plastic straws from your picnic supplies. There are tons of stylish, sustainable alternatives (like Aardvark Straws!)
Incorporate Eco-Friendly Picnicware
Created with fallen leaves, Bio & Chic offers a compostable palm leaf plates that come in a variety of shapes and sizes. And though finger foods can totally eliminate the need for utensils, Joanne Hudson's Eco Disposables line offers a practical alternative for any heartier dishes.
Reusable Supplies
Reusable supplies not only minimize the risk of leaving behind trash, they also encourage impromptu picnics anytime! Items like cloth napkins, cloth bags, reusable food containers, and a picnic blanket can substantially reduce waste.
Pack reusable tupperware full of foods: grilled chicken and veggies or any foods that are easy to throw on a bun and dish out. Pack these ahead of time and skip on the bags of chips, buns, and extra snacks so that you're not throwing away a ton of trash at the end of the day! 
Clean Up Afterwards
The best way to show how much you appreciate Hermosa Beach, or any beach for that matter, is by leaving no trace that you were there! Make sure you dispose of all your trash in the proper trash bins and leave nothing behind so that someone else can enjoy the beach tomorrow!
Be the first to comment...