Why Your Company's Next Event Should Be on Hermosa Beach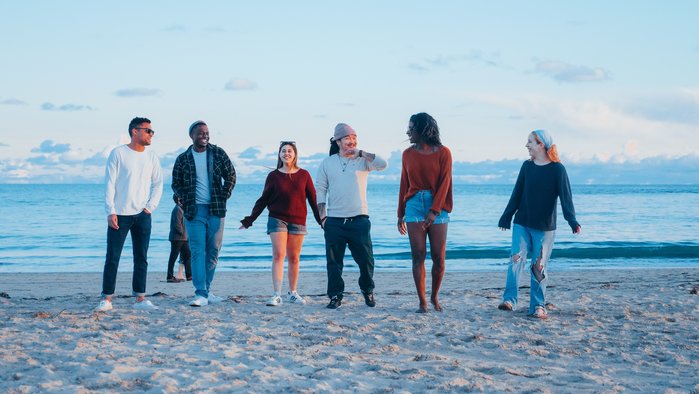 Why Your Company's Next Event Should Be on Hermosa Beach
Here at Beach Bound, we know how lucky we are to work from a place as beautiful and relaxing as Hermosa Beach. We also know that everyone isn't as lucky as us though, so we partner with companies of all sizes to throw corporate events, birthday parties, and any other type of beach event on the sand at Hermosa Beach!
Having a company event in Hermosa Beach may seem like a daunting task, but it doesn't have to be! We've listed the top reasons you should have your next company party, or any type of party, at Hermosa Beach below. Check it out and call or visit the team at Beach Bound to start planning your Hermosa Beach event!
Beach Bound Delivery Makes Throwing a Party Easy
Enjoying Hermosa Beach is easy but transporting the gear you need to do so isn't as simple, especially if you're throwing an event for a large group.
Fortunately, Beach Bound offers delivery for all its beach chairs, umbrellas, and sports gear! All you need to do is reserve your rental 24 hours in advance, and when you arrive at the sand on Hermosa Beach or the Strand your beach gear will be waiting for you! That means more time to prepare for your guests, and less time hauling beach gear. To learn more about Beach Bound's beach gear rental and delivery service, click here.
Think Out of the Box and Get Out of the Office
What better way to associate your company with innovative thinking and positive energy than by having your employees and guests have a blast at the beach?
Having retreats or parties at your office is easy, but thinking outside the box and having your company event on the beach sends a message to your employees and potential business partners that you're willing to go the extra mile to do something unique. 
Plus, putting distance between where you work always helps everyone relax easier. It also doesn't hurt that beach clothes are naturally casual, so all your guests will have an easy time getting ready for the party and relaxing once they get there! 
Hermosa Beach is Open & Beautiful Year-Round 
It doesn't matter what time of year you typically throw your corporate event; Hermosa Beach will have beach weather.
Thanks to Southern California's famous year-round summer weather, Hermosa Beach is a beach paradise 365 days a year. Even in the summer when temperatures soar, Hermosa Beach stays cooler than further inland thanks to the breeze coming off the water. You should always check the forecast well ahead of time while planning your event, but chances are that the sun will be shining no matter when you want to have a party at Hermosa Beach!
There is Plenty of Food, Nightlife, and Fun Nearby
Whether you're looking for someone to cater your Hermosa Beach event or a place to continue the party after the sun goes down, the city of Hermosa Beach has everything you need!
Hermosa Beach is home to a thriving and diverse business community, so even if there is something you need for your beach party that Beach Bound can't provide, we can easily recommend you to someone excellent! If your guests want to keep the party going after sundown, then there are plenty of restaurants and bars just steps away from the beach too!
Be the first to comment...