Why You Shouldn't Miss This Years Turkey Paddle in Redondo Beach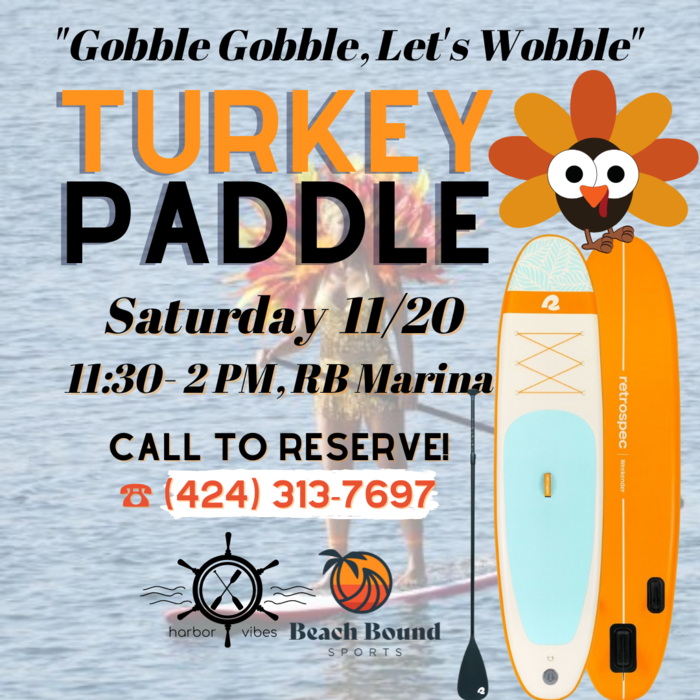 Grab your feathers and your gobble gobble and join us for our Second Annual South Bay Turkey Paddle!
We believe the beach and the sports surrounding it brings people together, that's why its our mission to make it as easy and affordable to enjoy California's amazing beaches, oceans, towns, and cities!  We always aim to offer the fastest and friendliest beach and bike rentals in Hermosa Beach but sometimes we go the extra mile to make sure you smile.
Beach Bound is proud to provide Stand Up Paddleboard rentals for the Redondo Beach Turkey Paddle taking place this Saturday 11/20 at the Redondo Beach Marina alongside the amazing folks at Harbor Vibes Official! You'll have to attend the event to see exactly why we're so excited to be involved with the turkeys Paddle, but we've done our best to show you why below!
Keep reading for everything you need to know about the Turkey Paddle, and make sure you book your Beach Bound paddle board rentals soon so that you don't miss out!
The Turkey Paddle will be on Saturday 11/20 in Redondo Beach Harbor
What better way is there to appreciate the Southern California sun while celebrating Thanksgiving than by paddling around the ocean while dressed as a Turkey!
Hundreds of Turkeys will be paddleboarding and kayaking together from 11 am – 2 or 3pm, but there are limited spots available for the event.
Launch will be at 11 am and Group Picture in front of Joe's Crab Shack (in the water) will be at 11:30am. Parade to follow! GOBBLE GOBBLE!
To Book or For More Info - Email or Call Beach Bound Sports!
We wish that everyone could get out on the water with us this Holiday, but there is limited space for this event. If you have any questions about getting on the water, the Turkey Paddle event, or anything else to do with Hermosa Beach, then call Beach Bound at (424) 313-7697 or email us at [email protected] 
Click here to see other ways to contact the Beach Bound team!
Follow Harbor Vibes on Facebook and join our Harbor Vibes Facebook Group for more info on this and future events!
Dont Forget! Costumes Are Encouraged
Get in the holiday spirit with your best Turkey and Fall-tastic outfits! All ages are encouraged to dress up, so if you've been looking for any excuse you can get to dress as a turkey then this is your chance!
We're going to be giving away prizes to the funniest and wittiest turkeys costume with Beach Bound swag! So take lots of photos and make sure you tag us on Instagram! #BeachBoundSports #TurkeyPaddle @beachboundsports 
If this is your first time paddle boarding, then we highly suggest you talk with the team at the Beach Bound shop when you pick up your rental. We have plenty of great tips on how to start out that will make for smooth paddling once you get on the water.
You can also check out our blog post on paddle boarding in Hermosa Beach here! Or, you can read this article to see pictures from last year's turkeys Paddle!
*This is a public event and you are paddling at your own risk. Harbor Vibes & Beach Bound Sports are not responsible for your own personal safety. And remember, "Boats DON'T have Brakes!" :)
Be the first to comment...