Why Hermosa Beach is The Best SoCal Beach for Family Vacations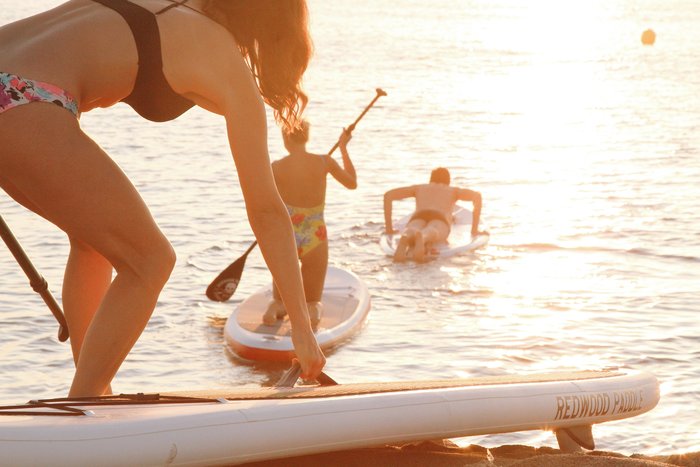 Why Hermosa Beach is The Best SoCal Beach for Family Vacations
If you're planning a family trip to Southern California, then you know that there are endless options for beaches to visit. Still, Hermosa Beach rises above the rest as the best place to bring your family for beach fun.
The Beach Bound team's goal is to get people to Hermosa Beach and enjoying the water, sunshine, and community we're so proud to call home. Usually, that means providing the fastest and friendliest beach and bike rentals in Hermosa Beach, but today we're sharing what makes our home the best beach to visit for families in Southern California. Read all about it below and then stop by the Beach Bound shop for all your Hermosa bike and beach rentals!
Unmatched Beach Fun
Beaches in Southern California come in many shapes and sizes, but Hermosa Beach combines the best parts of them all for an unmatched day at the beach.
Hermosa Beach itself is large enough to handle crowded days, but still small enough to always feel close to the water. Plus, it's surrounded by much more to do than just sitting in the sand or playing in the water.
For example, Hermosa Beach is covered in public beach volleyball courts that are perfect for casual and competitive games alike. Or, you and your family can bike the Strand, the paved biking and running trail that runs parallel to the shore at Hermosa Beach.  The Strand is part of a larger trail that runs through several beach towns along the SoCal coast, but the two-mile stretch in Hermosa Beach runs between the coast and the best restaurants and shops the city has to offer. The flat and paved trail is the perfect place to bike for families, and Beach Bound makes renting adult bikes, kid's bikes, tandem bikes, and bike trailers easy!
There are other things to do away from the beach in Hermosa too, such as the Hermosa Valley Greenbelt which is a walking trail that runs through the heart of Hermosa Beach and beyond!
An Excellent Beach Culture and Community
Hermosa Beach has a rich history as one of Southern California's best beach towns. Punk rockers, beatnik writers, and movie stars have all called Hermosa Beach home, and as a result there is a strong culture built into the heart of the city.
That's why there are plenty of incredible restaurants, unique shops, and world-class entertainment options packed into the two square miles that the city of Hermosa Beach covers. Whether you're looking for a late show at The Comedy and Magic Club or a place to enjoy a sunset dinner with your kids, Hermosa Beach has it.
Access to All of Southern California
It's hard to leave Hermosa Beach once you experience it, but the city is a great place to stay overnight between day trips.
We've already talked about the excellent community that offers enough great restaurants and shops for anyone, but since Hermosa Beach is in the heart of Southern California any activity you can imagine is only a few hours away.
You can enjoy the fun and entertainment of one of the largest cities in the world in Los Angeles which is right next door to Hermosa Beach, or you can explore the wilderness far away from any city! Whether you want to soak up the sun in the desert or hike to the top of a mountain, you can do it in Southern California.
You can also take one of the most beautiful drives in America by hopping onto California's famous Highway One which passes right through Hermosa Beach!
Be the first to comment...