Where to Find Hermosa Beach's Murals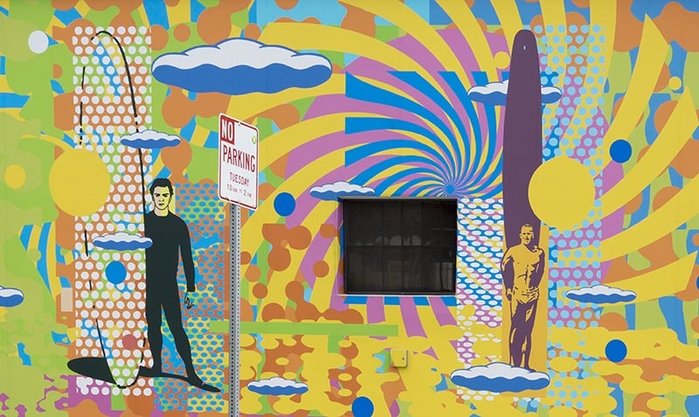 Where to Find Hermosa Beach's Murals
Between the beach and the perfect Southern California weather, there's a ton to like about Hermosa Beach.
The more time you spend in Hermosa Beach though, the sooner you'll realize that the city's history and culture are just as valuable as the beach. There's no better way to learn about Hermosa's history and culture than by viewing its public art, so the Beach Bound team has listed a few of the city's best murals and where you can find them below.
Check it out and take a break from the beach to see Hermosa Beach's public art!
Hermosa Beach West Coast Jazz
Further south of Pier Avenue is the Hermosa Beach West Coast Jazz Mural.
Hermosa Beach has a special connection to Jazz since jazz legends played at The Lighthouse Café for years. Although you can still see excellent live music at The Lighthouse, nothing represents Hermosa Beach's connection to jazz and music better than the West Coast Jazz Mural near the intersection of Hermosa Ave. and 11th Ct.
Beatnik Alley
Just past the intersection of Beach Drive and Pier Avenue, Beatnik Alley commemorates Hermosa Beach's history as a haven for writers and musicians.
The Insomniac coffeehouse started out as a place for artists of all types to gather and perform in 1958, and soon attracted beatnik writers. Later though, Insomniac was known as a music club, most notably for folk music. Although the Insomniac is no longer open, its legacy and that of the artist who visited are still represented in this mural! 
Volleyball in Hermosa
All it takes is one visit to the shore at Hermosa Beach to see why this mural at 13th Street and Beach Drive is as popular as it is.
Hermosa Beach's sand, shore, and sunny weather attract people from all over Southern California and beyond to play volleyball on its beach. Don't believe us? There are over 70 volleyball courts on Hermosa Beach along with enough demand to fill up each one. See what we mean by visiting this beautiful mural!
Centennial Mural
Although each mural represents an important part of Hermosa Beach's history and culture, if you only have time to see one then the Centennial Mural will give you a taste of them all!
Just north of Pier Avenue on Beach Drive, you'll find the Centennial Mural where Hermosa Beach's history is represented in one painting. Visit this mural to see jazz artists, punk rockers, and everything in between!
Hermosa Punk and Skate Heritage
Maybe the best way to describe Hermosa's diverse artistic history is to simply say that there is both a jazz mural as well as a punk rock mural.
Punk rock first took root in Hermosa Beach when Black Flag formed in the city and began creating music and eventually their own record label. The local following that Black Flag created built momentum for the scene to expand, and soon bands like the Circle Jerks, Red Kross, and the Minutemen were performing in the area.
Today, the legacy of punk rock in Hermosa lives on in bands like Pennywise as well as this mural at Hermosa Ave. and 13th St. 
Martha's Hermosa Beach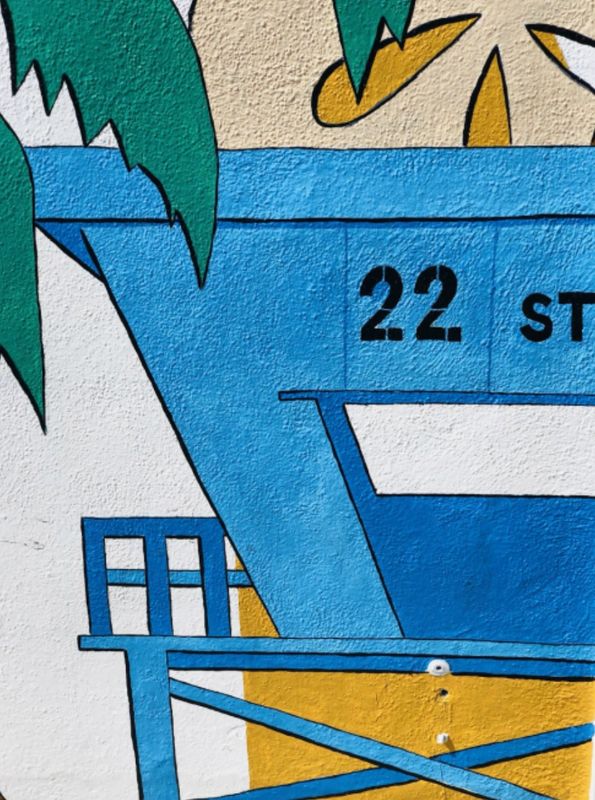 Tess Fortier or @collegekix as known on Insta is a born & raised Hermosa native. Her Martha's Corner mural is a homage to the city she loves. The young artist also creates her own custom painted shoes and is well known for her colorful artistic designs. Her mural here honors everything she knows and loves: lifeguard stands, volleyball courts, flora, and the fauna of Hermosa Beach. She says "...it has been an amazing experience contributing to the artistic culture of Hermosa Beach - thank you Martha's for the amazing opportunity!"
Hermosa's Great Wave
There may be nothing that captures the spirit of Hermosa Beach's beach culture than the illustrations and striking colors of Hermosa's Great Wave mural.  If you're a surfer or lover of the beach, then this mural is a must!
We've only named a few of the murals and public art here, but if you want to experience it all then you can check out this map of art in Hermosa Beach!
Be the first to comment...