Where to Find Hermosa Beach Sports Courts and Attractions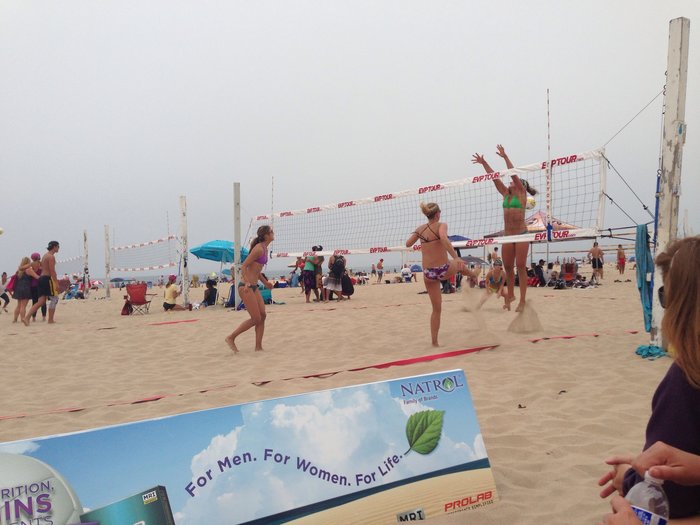 Where to Find Hermosa Beach's Sports Courts and Attractions
If you're visiting Hermosa Beach to plant your feet in the sand and relax to the sound of the waves, then the Beach Bound team can help you thanks to our quick and easy beach chair and umbrella rentals.
However, sometimes a beach visit means playing in the sun and sand on the volleyball court or testing your skill by fishing, and if that's what you want for your next trip then we have a list of Hermosa Beach's best sport attractions below! Use our list to find where Hermosa Beach's best sports are and stop by the Beach Bound shop to rent the beach sport gear you need to enjoy them!
Fishing on the Hermosa Beach Pier
There aren't many chances for fishing fanatics to fish offshore without a boat, but thanks to Hermosa Beach's 1228 ft. pier they can do just that.
Hermosa Beach's Pier is central to the city, so you'll have no trouble finding it at the end of Pier Avenue. Along with an excellent fishing location, anyone hoping to fish at Hermosa Beach Pier will be near many of the city's other attractions like The Strand, Pier Plaza, and, of course, the beach!
There is something for everyone at the Hermosa Beach Pier, but to make sure everyone can enjoy it there are also rules. For example, anyone fishing must not cast their line overhead or from the side if it has a hook or weight on it to make sure no one walking on the pier is hit by the line. You must also not dump any fish, shells, or other bait and litter on the pier during your time fishing. 
Hermosa Beach Volleyball Courts
No one knows that nothing goes better together than volleyball and Hermosa beach than us. That's why Beach Bound makes renting volleyballs simple and fast! 
The city of Hermosa Beach makes things even easier by having 80 volleyball courts on the beach from 1st St. to 35th St.. The volleyball courts operate on a first-come, first serve basis, but you can reserve a court through the Los Angeles County Department of Beaches and Harbors. You'll find men's and women's courts all along the beach, but portable nets are also allowed as long as they do not interfere with beach traffic, lifeguards, or other volleyball courts.
Hermosa Beach Playgrounds and Basketball Courts
If you're looking for a place where kids can play on the beach, then there are four playgrounds on Hermosa Beach at 2nd St., 10th St., 22nd St. and Longfellow Avenue. For other sports, you'll have to head into the city.
Some of the closest sport courts to the beach are those near Clark Stadium where there are tennis courts, basketball courts, pickleball courts, and a lawn bowling green at 861 Valley Drive. They are all open from 8 am to 10 pm with the exception of the lawn bowling green which opens on Tuesdays, Thursdays, and Saturdays at 10:15 am. 
For more Hermosa Beach Parks and facilities information, click here.
Hermosa Beach - take it to the sand!
The Beach is the ultimate playground for anyone who loves sunshine, and there isn't a better beach in Southern California than Hermosa's!
Although the sand is easy to find in Hermosa Beach, the gear you need to enjoy it may not be! If you don't have the time to buy beach gear or just simply don't want to pack it in your car and haul it, then rent it from Beach Bound! The Beach Bound shop has the fastest Hermosa Beach chair, umbrella, toy, volleyball, and other beach gear rentals!
Be the first to comment...