What's Behind California's Roller Skating Trend?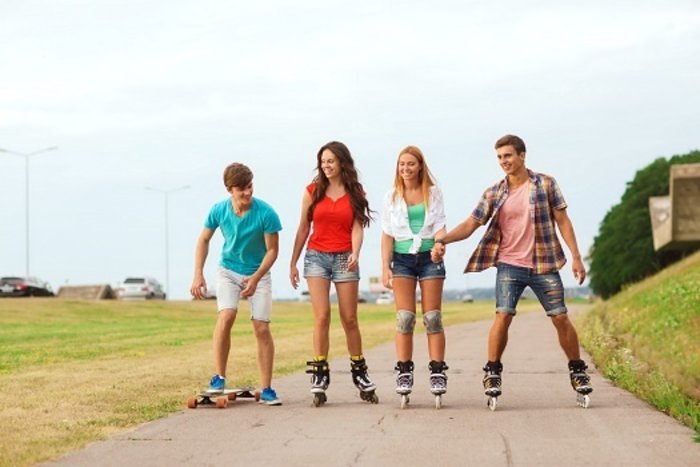 Roller skating is the perfect activity to do by yourself or with others. This is one of the reasons the L.A. Times cited for the increased popularity of roller skating in California, especially in beachfront destinations like Hermosa Beach. There are some other equally compelling reasons roller skating is a hot trend in The Golden State, a topic we roll through below.
California Has Inviting Weather
California has an abundance of sunny, pleasant days in many locations. This fact alone provides many opportunities to strap on a pair of skates to go out and about. For instance, Hermosa Beach gets more than 280 days of sunshine per year, according to Bestplaces.net. 
It's an Affordable Hobby
Because you don't need much gear to roller skate and because the gear isn't that expensive, roller skating is an affordable hobby to have! It doesn't take much effort to prepare to spend part of your day roller skating, which is another reason it's a hot trend in California. Typically, the list of things you'll need to safely roller skate includes:
• Comfortable skates with good ankle support
• A well-fitting helmet
• Knee pads
• Lightweight gloves
It's an Enjoyable Way to Maintain Some Distance
Getting back to the point made by the L.A. Times, roller skating is a simple and effective way to maintain distance from others around you in public spaces. Also, if you find a spacious paved pathway, such as The Strand, which spans 22 miles from Pacific Palisades to Torrance and has a section in Hermosa Beach, you won't even have to worry about finding plenty of space to safely skate and roll to your heart's content. You can even rent skates when you get to the beach. From paddleboards to roller skates rental, Hermosa Beach features plenty of shops where you can find everything you need to have a wonderful time.
Roller Skating is a Community Thing 
Make friends, skate together, and have fun roller skating along the boardwalk. No one to skate with? It won't take long to find your crew!
Roller Skating Is Relaxing
It seems like "everyone is roller skating" these days, according to Wellandgood.com, because it's also a great way to relax and de-stress. Roller skating has proven psychological benefits as well. These come from the exposure to the fresh air and the increase in "feel-good" hormones called endorphins that results from the physical movements involved with this activity.
It's a Perfect Excuse to Treat Yourself to Something Tasty
Whether you already live in California or you're just visiting, there's always a need to stretch and get some type of exercise. Roller skating is a good workout and it's a fun, pressure-free way to achieve this goal. What's more, by spending some of your time on wheels to burn off excess calories, you won't have to feel guilty about treating yourself to mouthwatering seafood dishes, grilled delights, pizza, fish tacos, decadent desserts, and other popular California goodies.
Sightseeing Becomes Even More Fun
Visitors to California are falling in love with roller skating too, since it's a perfect fun way to see the local sights. In Hermosa Beach, you'll be able to enjoy amazing views while roller skating in places like the 1,000-foot pier perched here. As you skate, make sure to check out Santa Monica Bay, the Palos Verdes Peninsula, and other nearby sights that are best to see in person. 
If you love to roller skate, Hermosa Beach is the perfect place for you. You can bring your own skates or stop by and rent a pair from Beach Bound Sports. From bodyboards to cooler chairs, we have everything you need to enjoy your best beach day ever. We pride ourselves on our amazing service, brand-new high-quality equipment, and convenience that allows beachgoers to spend more of their time beachside. Hermosa Beach, CA, visitors should stop by or call us today at 424-275-9115.
Be the first to comment...