What You Need to Know When Buying an Inflatable Paddle Board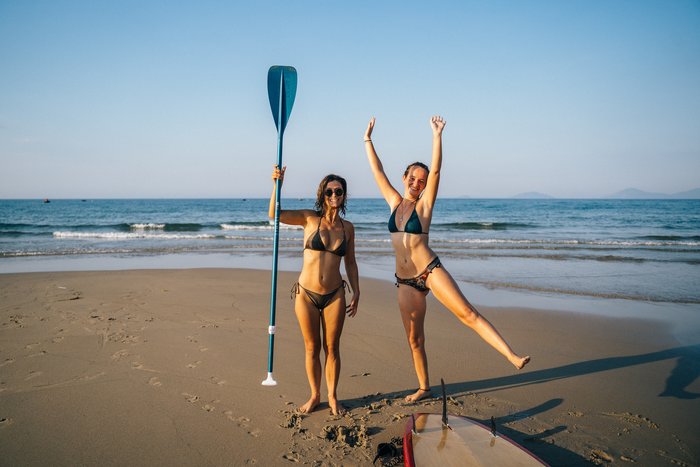 What You Need to Know When Buying an Inflatable Paddle Board
Stand-up paddleboards are a beginner-friendly way to explore rivers, lakes, and oceans, but inflatable stand-up paddleboards open even more doors to outdoor adventures thanks to their ease of use and portability.
Here at Beach Bound, we're all about sharing the natural beauty of our home at Hermosa Beach. That's why we love inflatable stand-up paddleboards! 
To help others explore the outdoors, we've put together a quick list of tips for buying your first inflatable stand-up paddleboard below. Check it out before your purchase and stop by the Beach Bound shop or visit our rental site for the fastest and friendliest paddleboard rentals in Hermosa Beach!
Rent First to Figure Out How and Where You Like to Paddleboard
Obviously, you should try a few paddleboards out before you buy one, but, more importantly, renting allows you to explore different types of water and styles of paddling. 
For example, you should know whether you like being in the ocean and riding a few waves on your way to shore or if you like paddling through the calm waters of a river or lake. Renting will also allow you to know the length, shape, and width of the perfect paddle board for you, which is why Beach Bound makes renting paddleboards online easy and will even deliver your inflatable paddleboard to the beach for you!
Why Paddleboard Length and Width Matter
The length of your paddleboard determines how maneuverable it is. A long board will glide in the same direction for longer stretches than a short board, but a short board will be more maneuverable. For example, a short board (anything under 10 feet long) will be best for someone who wants to paddle out and surf back to shore while anything over 12 feet long will be best for paddling over long distances.
While the length of the board determines how it moves, the width affects how smoothly it does so. Wider boards will feel more stable and allow the paddler to carry more gear on them, but if a board is too wide then it can feel just as unstable as a narrow board. Narrow boards are easier to move, but if you're new to paddle boarding then they may feel too unstable to ride.
Know what type of paddling you want to do as well as your body weight and skill beforehand so you can choose the correct width and length for your inflatable stand-up paddleboard!
Why Paddleboard Thickness Matters 
If you're shopping for inflatable paddleboards, then you've probably seen many that are 5 inches or 6 inches thick. While one inch may not seem like a big deal, it can seriously affect your paddling.
Depending on your weight, a 6-inch board may sit too high out of the water which means that instead of gliding through the water it sits on top of it. Not only will that make the board more unstable in choppy water, but it will also make it harder to get on if you fall off.
There are situations where you'll want a thicker board, but if you're looking for an all-around inflatable paddleboard then 5 inches will likely serve you better.
Don't Forget About Portability and the Pump!
Beach Bound gladly delivers paddleboards to the beach, but if you're buying a board for yourself then you should consider how easy it is to move around and inflate. If you like to paddle from the dock next to your house then portability and how quickly the board inflates won't matter, but if you want to hike your board into the mountains then the more portable the better!
Be the first to comment...