What You Need to Know About Smackfest, the Biggest Volleyball Event in Hermosa Beach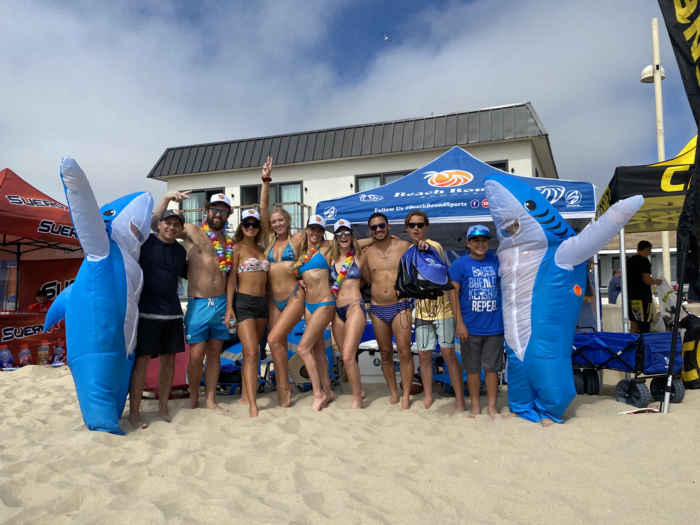 Smackfest, One of the Biggest Volleyball Events in Hermosa Beach!
All it takes is one step onto the sand at Hermosa Beach to see that this community loves beach volleyball.
If you don't see that from the 71 courts on the beach then you'll be bound to get it when you see the Volleyball in Hermosa mural at 13th St. and Beach Dr. It's no surprise then that Smackfest, the most popular volleyball tournament on the west coast, takes place in Hermosa Beach on July 31st. We've written everything you need to know about Smackfest below. Check it out and look for the Beach Bound booth at Smackfest!
The Smackfest Basics
Smackfest will take place on Saturday July 31st just south of the Hermosa Beach Pier. Coed teams of four will compete in two different tournaments, one for fun and one for pros who will compete for $4,000 in cash and prizes, all day long. Spectators are welcomed all along the beach, and some of the best players in Southern California will play in the pro tournament. If you want to see people having a ton of fun, and the wackiest costumes they can possibly play volleyball in, then check out the amateur tournament taking place at the same time!
Not Playing? No Problem!
Registration to play in Smackfest sold out within hours of being available, so the only option to enjoy the festival now is to watch from the sidelines. Don't worry though, because there is plenty to do in between matches!
Sharkeez and Tower12 will be offering happy hour deals all day long in case you need a snack or something to refresh yourself after hours in the sun, and other local businesses will have their doors wide open and best deals ready for your visit! Some businesses will even come to you on the beach, and Beach Bound is one of them!
Stop by our booth to say hi and pick up some Beach Bound gear before heading back to the festival, or head down to the Beach Bound shop for the best bike and beach rentals in Hermosa Beach!  
Enjoy the International Surf Festival Too!
The only thing that's possibly more Southern Californian than beach volleyball is surfing, and on the weekend of the 31st you'll get to enjoy both!
The 58th International Surf Festival will take place in four different cities across Southern California with several events taking place in Hermosa Beach! On Friday, July 30th, the L.A. County Lifeguard Championships will take place at the Hermosa Beach Pier. The championship will begin at 7:30 pm and include a rescue demo, a run relay, a water sprint relay, a rescue board relay, and an interacrew medley relay. On Saturday the 31st, more events will take place with an early morning 2-mile beach run, surfing championship, and even more lifeguard championship events taking place at the Hermosa Beach pier. Lastly, there will be even more beach volleyball, a pier-to-pier swim, the Paul Matthies Dory Race, and the South Bay youth swims and paddles event on Sunday August 1st. Click here for the full schedule and exact times and locations of the International Surf Festival!
With so much going on it won't be easy to see it all, so visit Beach Bound for all the beach and bike gear you need to make the most of the weekend!
Be the first to comment...