What Distance & Speed Can I Expect with an E-Bike?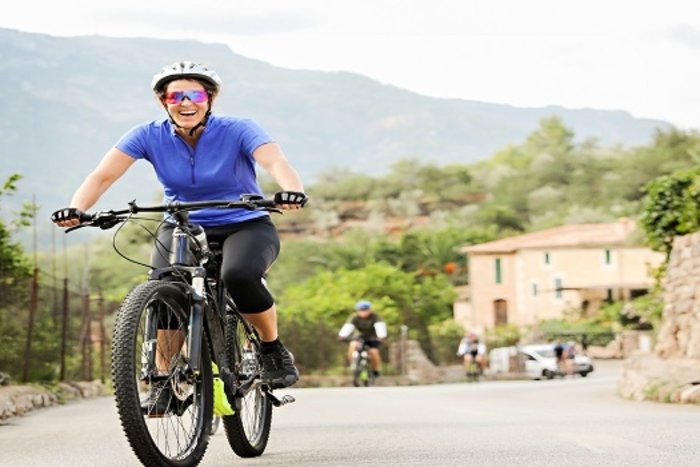 Electric bikes have become one of the most popular ways to get around big cities and suburban areas. These bikes combine the best of both worlds by allowing you to use your muscle power to get places faster while relying on a boost from an electric motor to avoid fatigue. Using an e-bike is fairly simple as long as you already know how to ride a bicycle, and knowing a little more about what using these bikes is like can help you feel confident about using one to get around on your upcoming trip to California.
Know the Average Speed of an E-Bike
California categorizes these types of bikes into three different classes. Class 1 bikes only provide electric assistance when the rider is actively pedaling. Once the rider reaches 20 mph, the motor will stop providing assistance. Class 2 bikes can go up to 20 mph with more assistance from the motor that's most noticeable if you stop pedaling. At Class 3, the electric assistance stops once you reach 28 mph.
Pay Attention to Local Laws
There are both state and local laws to be aware of when you ride an e-bike. Although the lower classes of bikes are fairly safe to use around pedestrians, there are typically restrictions regarding being able to ride an electric bike on common walking paths throughout the area. However, they tend to be allowed on many commuter paths that take you to the top restaurants and other venues in Hermosa Beach. Bike rental shops will also tell you the law requires anyone under the age of 18 to wear a helmet while riding. However, it's generally best for anyone who rides an e-bike to wear a helmet for the ultimate level of safety. You'll also need to be at least 16 years of age to operate a Class 3 e-bike.
Expect to Get a Range of Mileage from a Single Charge
The biggest factor affecting how much mileage you'll get from a single charge is whether or not you choose to pedal. Combining your human power with the electric motor reduces the reliance on the battery. E-bikes get a wide range of mileages from a single charge, but you can expect yours to go around 20 to 50 miles, which is far enough to get you to your favorite places and back several times. If you do need to charge a bike, the process can take a couple of hours. Making sure to start out with a freshly charged battery each morning ensures it will be ready to go when you are.
Practice Good E-Bike Riding Safety Protocols
E-bikes can go faster than traditional bicycles, which makes wearing your safety gear extra important. You'll also want to follow the appropriate protocols for using your bike around cars and pedestrians. If you approach a pedestrian from behind, make sure to call out which direction you're going around the person so he or she knows to stay out of your path. Also make sure to use crosswalks and obey the traffic laws.
When they're looking for high-quality bike rentals, Hermosa Beach visitors should stop in and see the friendly folks at Beach Bound Sports. From e-bikes to bodyboards to cooler chairs to pet trailers, we have everything you need to enjoy your best beach day ever. We pride ourselves on our amazing service, brand-new high-quality equipment, and convenience that allows beachgoers to spend more of their time beachside. Stop by or call us today at 424-275-9115.
Be the first to comment...