Ways to Enjoy the "Boardwalk" at Hermosa Beach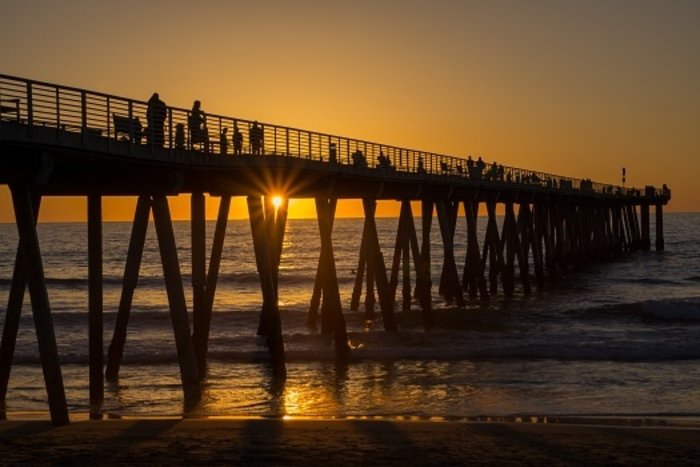 A "boardwalk" is defined as an elevated footpath, walkway, or publicly accessible pedestrian pathway. Going by this definition, Hermosa Beach does have a boardwalk of sorts with its iconic beach-adjacent pier. Paved with asphalt, it provides more than a thousand feet of space, and the pier and surrounding public areas can be used for any of the purposes mentioned below when you're in town for a visit.
Watching the Sun Set over the Pacific Ocean
There's nothing like watching the sun set directly over the Pacific Ocean in person. This is something you can do from Hermosa Beach's boardwalk-like pier. What's more, because of the way the pier is designed, the view is completely unobstructed. Be prepared to grab your phone and impress your friends back at home with some awe-inspiring pics of the view that's always on display here.
Walking while Enjoying Fresh Ocean Air & Gorgeous Views
You don't have to wait for the sun to set to appreciate the experience of strolling along Hermosa Beach's main beach-adjacent thoroughfare. You're free to walk along the pier from the early morning until later in the day. And if you need a bite to eat before going for your walk, there are restaurants near the pier's entrance you're welcome to enjoy. Plus, there are bars in the same general area by the pier's entrance point.
Skating or Rollerblading at Pier Plaza
Hermosa Beach does have an actual skate park on Pier Avenue, but there's another way to have fun on wheels while here. While skating is prohibited on the pier itself, you can strap on your roller skates and make your way to nearby Pier Plaza. Rollerblading is also an activity you can enjoy at the plaza with the ocean as your backdrop. Hermosa beach bike rentals are also available if you'd like to pedal your way around Pier Plaza.
Fishing
Dawn and dusk tend to be good times for fishing, something you can certainly do in the Hermosa Beach area. If you prefer a more boardwalk-like experience when fishing, cast your line from the pier. Anglers often snag yellowfin croaker, sardines, corbina, mackerel, and an assortment of other fish in the waters here. White croaker is also a common catch from the pier in Hermosa Beach, but these fish should be avoided because of potential health issues when consumed.
Don't Forget about the Strand
If you have plans to visit Hermosa Beach and you're looking for boardwalk-like destinations, don't forget to check out the Strand along with the pier. It's a cement pedestrian pathway that runs along the beach. It ultimately extends to nearby Manhattan Beach and Redondo Beach, offering a long stretch of stunning beach views. This is also a place where you can walk, run, jog, skate, or participate in many other outdoor activities you can safely do in public areas. If you'd like to explore the area on two wheels and you're looking for bike rentals, Hermosa Beach is home to several shops that rent bikes. 
Taking advantage of the Hermosa Beach Pier, Pier Plaza, and the Strand is one of the most pleasant ways to explore Hermosa Beach. Before you hit the sand and surf, stop in and see the friendly folks at Beach Bound Sports, the experts on the very best ways to enjoy Hermosa Beach. From boogie board and beach umbrella rentals to water bottles, coolers, towels, and much more, we have everything you need to make your day at Hermosa Beach unforgettable. You'll be astounded by our outstanding service, unparalleled convenience, and high-quality equipment. To learn more about how we can help you have a blast at the beach, give us a call today at 424-275-9115.
Be the first to comment...