Top Hermosa Beach Spots for Stand-Up Paddleboarding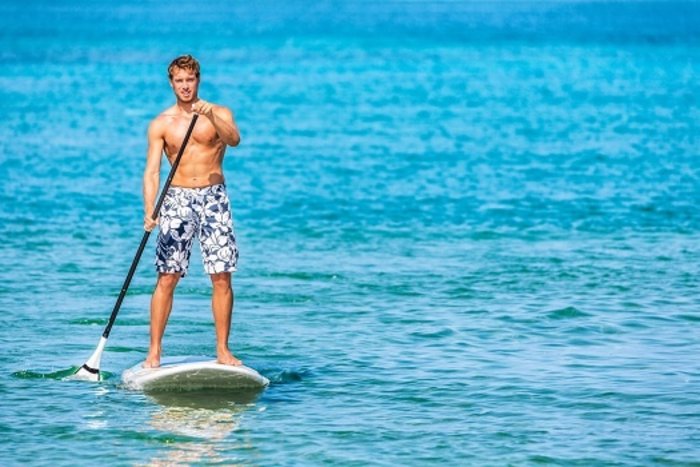 Stand-up paddleboarding is a fun, invigorating way to get even more enjoyment out of your time in the water. This is especially true when visiting an appealing California beach town like Hermosa Beach. If your travels will soon be taking you here and you have plans to enjoy riding an SUP, Hermosa Beach has some fantastic places to enjoy this sport, including the areas listed below.
Hermosa City Beach
Centered on the iconic Hermosa Pier and encompassing the entire waterfront area, Hermosa City Beach is the main beach in this LA County city. As such, it's the most accessible paddleboarding destination for both locals and visitors. Because of the size of this beach, it shouldn't be too difficult to find a spot where you can paddleboard to your heart's content. Incidentally, Hermosa Beach is home to a popular annual paddleboarding race known as the South Bay Paddle. Hosted by the South Bay Boardriders Club, this 15-mile race starts at Hermosa Pier, continues to the beach at Palos Verdes, and ends back at Hermosa Beach.
Redondo Beach
Only about five minutes or so from Hermosa Beach, you'll find Redondo Beach. It's also a local and perfectly picturesque paddleboarding destination you're welcome to check out during your visit.
Manhattan Beach
Just about as close to Hermosa Beach is Manhattan Beach. In addition to offering similar sandy beaches, it's another place where you can bring your paddleboard and lose yourself in calmness and serenity.
Newport Beach & Huntington Beach Harbor
Just less than an hour away from Hermosa Beach is Newport Back Bay in Newport Beach. It's home to calmer waters that may be more appealing to you if you're new to paddleboarding or just getting used to standing up on your board. Nearby Huntington Beach Harbor is equally inviting for stand-up paddleboarding enthusiasts. As you stand up on your board and paddle away here, enjoy the view of the mountains and harbor palm trees off in the distance.
Laguna Beach State Marine Reserve
If you're up for a day trip, consider making your way to Laguna Beach State Marine Reserve while staying in Hermosa Beach. Located about an hour away, it's a pristine area where you can have fun stand-up paddleboarding.
Santa Monica State Beach
Located to the west of Los Angeles and about 40 minutes from Hermosa Beach, Santa Monica State Beach hosts stand-up paddleboarding races during the warmer months of the year. Even if you miss out on being able to participate, you can still have some paddleboarding fun here.
Preparing for Your Paddleboarding Trip
All you'll need to do to enjoy stand-up paddleboarding is bring your beachwear and paddleboard—or you can rent one locally. In Hermosa Beach, there's parking along Hermosa Avenue and on some of the side streets. The other locations mentioned above also have parking options in the vicinity of the beaches. Also, consider signing up for local classes before you arrive in Hermosa Beach if you're new to stand-up paddleboarding.
If you're at Hermosa Beach but you don't have your own paddleboard with you, don't worry—you can rent one at Beach Bound Sports, which is located right near the beach. Whether they need towels, coolers, water bottles, or surfboard, boogie board, or paddleboard rental, Hermosa Beach visitors can find what they're looking for in our convenient shop. We're dedicated to providing excellent service and optimal convenience so you can spend your time enjoying the beach. For information about our services and products, give us a call today at 424-275-9115.
Be the first to comment...