Tips for Riding a Stand-Up Paddleboard with Your Dog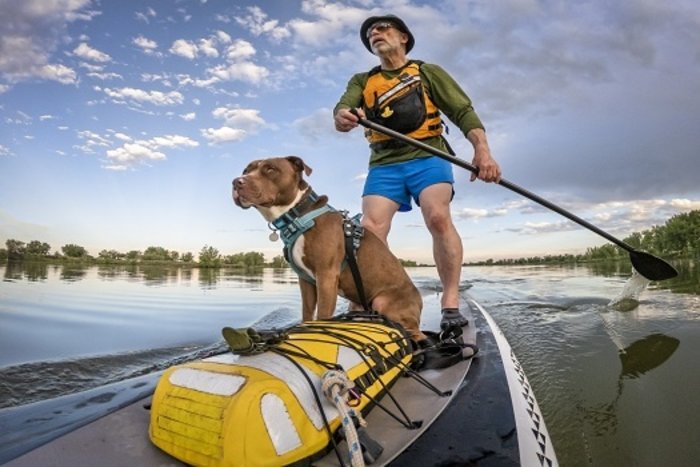 Paddleboarding with your best friend by your side makes every adventure on the water more exciting. Training your dog to stay on the paddleboard takes some time, but you'll find it's worth it when he or she looks so happy to accompany you on your trip. You can start getting your dog acquainted with your favorite water sport by using this training guide.
Make Sure You're Confident on the Board
You're responsible for keeping your dog safe, which means you'll want to have complete control of your paddleboard. Spend some time practicing paddling in various water conditions until you feel confident you're ready to bring your dog along. You might even want to take a few lessons to help you develop even more control over your steering.
Train Your Dog to Follow Your Lead
Teaching your dog how to paddleboard begins on dry land. You'll want to start out by training your dog to follow basic commands. Being able to sit or stay at your command means he or she will be able to follow your directions when you're out on the water.
Pick a Dog-Friendly Paddleboard
Your paddleboard needs to be big enough for both of you to fit on it comfortably. A 10-foot board is best, since it also offers more stability than smaller boards. You'll also want to choose a board with a softer surface that allows your dog to have more grip so he or she doesn't slip around. 
Practice Some Basic Skills First
Once you've got your board, it's time to set it out on the ground and practice a few simple skills before you try it in the water. At first, you might try just putting the board in a room where your dog can sniff it and explore. Then you can put a treat on it where you want your dog to sit. Continue offering treats and praise every time your dog sits in its spot.
Plan Your First Trip to Take Place in Shallow Water
After you get your dog comfortable with sitting on the board, you can take it out on the water. If you don't want to have to lug your own board with you to the beach, there are plenty of nearby shops that specialize in beach rental. Hermosa Beach visitors can easily find high-quality paddleboards to rent for the day. Pick a calm, clear day to practice, and look for a shallow area of water that doesn't have a lot of traffic. Practice having your dog sit and stand with you on the board. As your pup remains steady, you can start heading out further in the water.
Remember Safety Rules as You Venture Out
Make sure to put a life jacket on your dog anytime you're around a large body of water. You'll also want to skip having the dog on a leash when he or she is riding on your paddleboard, since it could get tangled. Finally, remember to use doggie sunscreen on the sensitive parts of your pup's body, and bring plenty of water for you both to stay hydrated.
If you and your four-legged buddy want to go paddleboarding at Hermosa Beach but you don't have your own board with you, don't worry—Beach Bound Sports is located right near the beach. Whether they need towels, coolers, water bottles, or SUP rental, Hermosa Beach visitors can find what they're looking for in our convenient shop. We're dedicated to providing excellent service and optimal convenience so you can spend your time enjoying the beach. For information about our services and products, give us a call today at 424-275-9115.
Be the first to comment...