The South Bay's Most Instagrammable Places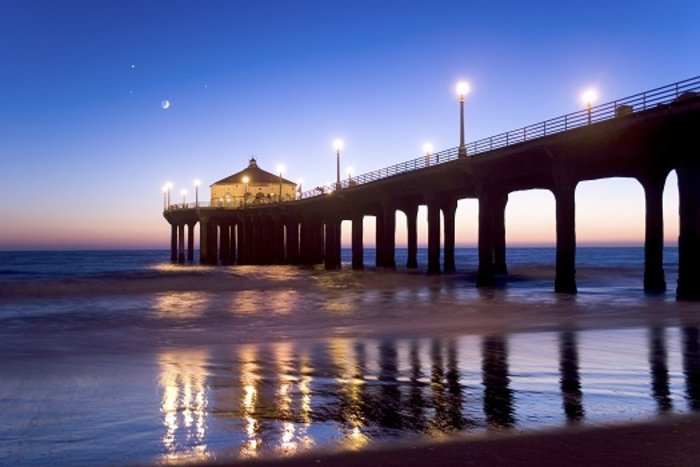 If you're looking for fantastic places to take pics to post on Instagram, you can follow the crowd and snap photos of the Hollywood sign and other well-known spots in the Los Angeles area, but why not take advantage of the amazing sights in the South Bay? This centerpiece of the laid-back Southern California lifestyle has plenty of unique locations that are ideal for Instagram posts and selfies. Here are just a few.
Torrance Beach
Torrance Beach, at the base of the hills in Palos Verdes, is one of the most picturesque spots in the South Bay. It's not as well-known as other beaches in the area, so it's less crowded with tourists. The view to the south features lush green hills and a beach outlined by rolling fog, giving it the feel of a tropical paradise.
Manhattan Beach
Manhattan Beach, known as the South Bay's most glamorous beach town, features two miles of sand, but its main attraction is the Manhattan Beach Pier. The West Coast's oldest pier, this spot is a favorite location for both amateur and professional photographers, and you're likely to find quite a few people snapping photos here. You can catch exceptionally impressive shots at sunset, especially if you position yourself under the pier at low tide, when the wet sand reflects the pier brilliantly. You can also get some great shots of surfers from this vantage point. 
Hermosa Beach
Compared to Manhattan Beach, Hermosa Beach is a lot more laid back, and the restaurants and bars lining Pier Plaza give it a unique Southern California party vibe. Whether you're exploring the area on foot or a beach cruiser, Hermosa Beach has two don't-miss spots, the Hermosa Pier and The Strand, that offer fantastic opportunities to snap pics that capture the spirit of the SoCal lifestyle. 
As with most California beach towns, Hermosa Beach's pier is a hub of bustling activity. You might recognize the Hermosa Beach Pier from the Oscar-winning film La La Land. You'll find plenty of opportunities for Instagrammable shots from this structure, which stretches out beyond the expansive beach and offers views of surfers catching waves on both sides. 
If you're looking to capture the unique Hermosa Beach vibe visually, head to The Strand, a two-lane walking and bicycling path that's parallel to the ocean. Along this two-mile stretch, you'll find endless Instagrammable subjects, from kids building sandcastles on the beach to sun-kissed palm trees to skateboarders and rollerbladers whizzing past. There's always a steady stream of people and vibrant activity to photograph on The Strand.
If you're looking for amazing places to get some great shots for Instagram, head to the South Bay, particularly Hermosa Beach. When you get here, stop in and see the friendly folks at Beach Bound Sports, where you'll find everything you need to enjoy an Instagram-worthy seaside adventure, from towels to coolers, water bottles, and Hermosa Beach bike rentals. We're dedicated to providing excellent service and optimal convenience so you can spend your time enjoying the beach. For information about our services and products, give us a call today at 424-275-9115.
Be the first to comment...