The Crazy Things You Missed At SmackFest 2021 - Hermosa Beach's Volleyball Tournament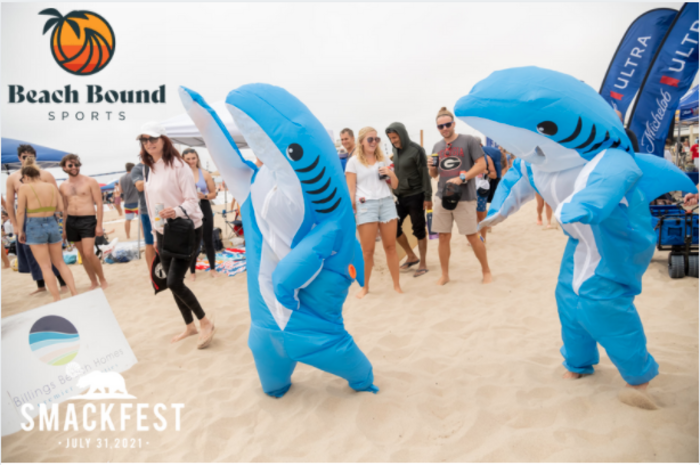 Beach Bound at SmackFest 2021 - Hermosa Beach's Volleyball Tournament
As much as we love the sun, sand, and water, the best thing about our home is the community! 
We could endlessly list everything we love about the Hermosa Beach community, but the best way to show you exactly what we mean is by recapping SmackFest 2021! We had way too much fun to include everything, so we've picked the best parts of SmackFest 2021 below along with a few of our favorite pictures and listed them here. Check it out, and make sure you stop by the Beach Bound shop for all your Hermosa Beach bike and beach rentals!
The Winners of the SmackFest Beach Volleyball Tournament
As much fun as we had hanging out with the Hermosa Beach community, all eyes were fixed on the beach volleyball tournament. Hermosa Beach is known for its beach volleyball community and the best of the area came out to SmackFest to compete for a $2000 grand prize!
The final in the pro tournament came down to Team Lecroix and Relentless where Team Lecroix edged out the competition to win the grand prize after an exciting match. In the fun tournament, Pass & Hitties fought for a win against KJ and the Sunshine Band.
We loved the intensity of the pro tournament and saw some of the best volleyball we'd ever seen on Hermosa Beach while it played out. Of course, we had a blast watching the fun tournament and all its wacky costumes too!
Beach Bound Sharks Do The Worm & Get Jiggy With It at Smackfest 2021
The players in the fun tournament weren't the only ones who were in costume though, as the Beach Bound team was dressed as sharks and dancing all over the beach!
Even though we weren't playing in the tournaments, we couldn't help but get in on the fun and wear our favorite costumes! We made plenty of friends and handed out over 1000 Beach Bound bags and hats to each of them as we danced our way across the beach. Between the volleyball and meeting all our new friends the day was over before we knew it, but we had a blast getting to know each and every one of you!
A Community Gathering Like No Other
Beach Bound opened this Memorial Day after a year that COVID – 19 made like no other, but that didn't stop the Hermosa Beach community from making us feel right at home immediately. We had the privilege of setting up a booth between our friends at Michelob Ultra and CrossNet during SmackFest, and had a blast hanging out with them in between dancing and volleyball matches. 
We were also lucky enough to work with Easterseals, America's largest nonprofit health care organization. Easterseals specializes in providing inclusive childcare, medical rehabilitation, autism services for young children and their families, job training and employment placement for adults with disabilities, and much more!
A recent graduate from Easterseals and their counselor were kind enough to help us run our booth, and we had a blast getting to know them! Click here to learn more about Easterseals and their important mission!
Check out all of the pictures from the weekend to see why we're already counting down the days until SmackFest 2022!
Be the first to comment...