Should I Buy or Rent Roller Skates?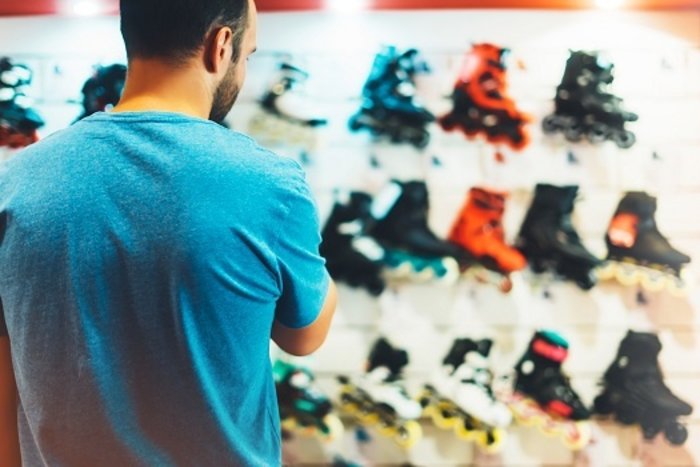 Roller skating has never completely gone out of style, but it's definitely making a comeback. Skates are the perfect way to explore a new location. They'll get you where you want to go faster without being as cumbersome as large pieces of sporting equipment. With skates, you can enjoy gliding along your favorite pedestrian-friendly hot spots while still being able to easily maneuver around the other people on the path. The only real question about roller skating is whether you should buy or rent a pair of skates. Thinking about the following scenarios can help you make this decision.
Practice Skating with a Borrowed Pair
If you've never skated before, you may be unsure of how much you'll enjoy it. For true beginners, renting skates is less expensive than buying their own. Adult skates can cost a hundred dollars or more, so renting can save you money if you end up deciding skating isn't your favorite thing to do.
Try New Skate Styles with Rentals
Roller skate styles range from the traditional lace-up types you see on professional skaters to trendy low-profile sneaker models. You'll also find skates that are better suited for outdoor skating compared to those used in rinks. Trying out a new skate style is always recommended, since you might find a certain model doesn't fit your feet just right or might not be best for your intended purpose.
Rent Skates if You're Traveling
The only real drawback to having your own skates is that they can be a bit bulky when you're trying to travel light. Rental shops in popular tourist areas such as Hermosa Beach, CA, offer skates near the top skating destinations, and choosing to just pick up a pair when you're ready to skate saves you valuable packing space. Renting skates makes it easier to go through airport security, fly with just a carry-on, and avoid having to worry about leaving your favorite expensive pair of skates behind in a hotel room. If you're in the area and need roller skates rental, Hermosa Beach is home to Beach Bound Sports, where you can find high-quality skates as well as everything else you need to have a fabulous time at the beach.
Consider Buying if You Know You Love Skating
There are times when it's well worth buying your own pair. Owning a pair of skates means you can trust they'll conform to your feet for ultimate comfort. You'll also have your own skates for random outdoor adventures at home when your favorite skate shop might not be open. After trying out a few rental pairs, you might be ready to invest in skates you can use whenever you want.
Think about Renting if You're New to Skate Care
Taking care of skates is another challenge to consider. You'll need to make sure the wheels are properly tightened and replaced as they get worn out. Leather boots need regular conditioning, and you'll need to keep the trucks free of street debris that could cause corrosion. If you're not up for maintaining your skates, renting gives you a carefree way to enjoy your favorite sport.
If you love to roller skate, Hermosa Beach is the perfect place for you. You can bring your own skates or stop by and rent a pair from Beach Bound Sports. From skates to surfboards and cooler chairs, we have everything you need to enjoy your best beach day ever. We pride ourselves on providing amazing service, brand-new high-quality equipment, and ultimate convenience so you can spend more of your time beachside. Hermosa Beach, CA, visitors should stop by or call us today at 424-275-9115.
Be the first to comment...