Riding a Tandem Bike for the First Time? Here's What You Need to Know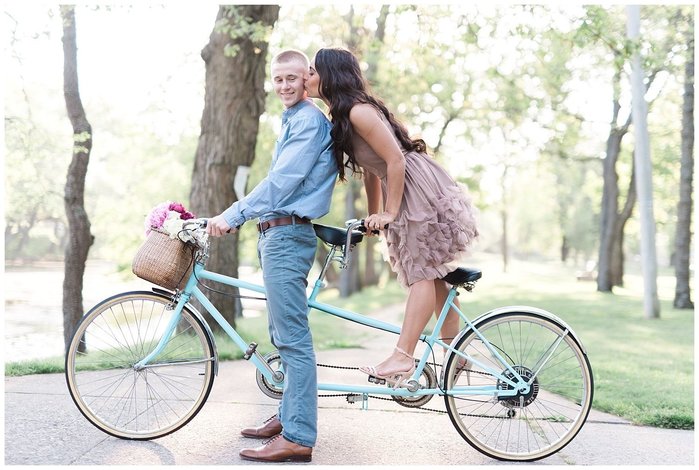 Riding a Tandem Bike for the First Time? Here's What You Need to Know
At Beach Bound, we're all about sharing the beauty and fun of Hermosa Beach. 
For us, that means offering the fastest and friendliest beach and bike rentals in Hermosa Beach, but if you're visiting Hermosa Beach then one of the best, and most fun, ways to share our home is by riding a tandem bike!
Beach Bound rents tandem bikes for just this reason, but riding one for the first time is much easier said than done. We've put together a list of tips below to help your first ride on a tandem bike be the first of many. Check it out and stop by the Beach Bound shop once you're ready to rent a tandem bike!
Take Your Time Getting on the Bike
Before you even get to ride a tandem bike, you'll realize that even just getting on it is different than a regular bike.
Most people get on a bike by kicking their leg back and over the seat. However, if the person who is riding in the front of the bike, A.K.A. the captain, tries to get on this way then they will hit their legs on the handlebars behind their seat.
Even though the person on the back seat, A.K.A. the stoker, can get on the bike just like a normal bike, you'll want to find somewhere with plenty of space and take your time figuring out how to get on the front seat. There are many different ways to get onto a tandem bike, like kicking back over the front handlebars, but the best one is whatever is easiest for you.
Just make sure that wherever you figure out which way works best for you has plenty of space to practice!
Communicate Everything with Your Partner
As soon as you take your first pedals on a tandem bike, you'll realize why communication between the two riders is so important.
Everything you do from the moment you start pedaling to the moment you stop will need to be done with your partner. That means that where you're going, when you're stopping, and even when you're changing gears will need to be said out loud so that your partner can prepare.  This is especially important if you're riding somewhere crowded like the Strand.
No matter if you're the captain or the stoker, make sure to communicate everything you're doing so that you never end up on a different page than your partner.  
Remember that the Stoker Can't See Bumps
Imagine riding a bike without being able to see the road in front of you, and then imagine trusting someone to steer you while riding a bike without being able to see. That's what a stoker on a tandem bike experiences.
The stoker should always trust the captain of their tandem bike, but the captain should also make sure that they communicate everything they're seeing, especially bumps in the road so that the stoker can prepare appropriately. 
Practice Before Taking to the Strand or the Street
Of course, you should practice riding your tandem bike away from people, cars, and other objects before you take somewhere as crowded as the Strand or street. Doing so will allow you and your partner to practice everything from getting on and off your bike to communicating while riding.
That practice is vital to riding a tandem bike safely, so don't skip it! If you need any help getting comfortable on your rented tandem bike then ask a Beach Bound staff member for more tips and advice!
Be the first to comment...