Hermosa Beach's Pier Plaza Visitor's Guide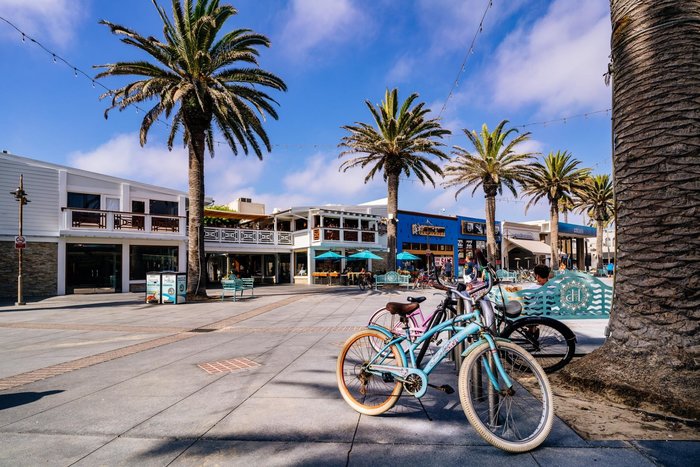 Hermosa Beach's Pier Plaza Visitor's Guide
A trip to Hermosa Beach is a chance to hit pause on the daily grind, but Hermosa Beach offers more than just soft sand and stunning sunsets.
Once you've refueled with a relaxing beach day, the city of Hermosa Beach is the perfect place to end your visit with an exciting night thanks to the restaurants, stores, and bars centered around Pier Plaza. To help you make the most of your visit to Pier Plaza, the Beach Bound team has created a short guide to the best restaurants and attractions at Hermosa Beach's Pier Plaza. Check it out ahead of your next day (or night) at Hermosa Beach! 
Watch the Sunset from Hermosa Beach Pier
Of course, it would be a mistake to talk about Pier Plaza without mentioning the pier itself!
The Hermosa Beach Pier is 1,228 feet of walkway that stretches out from Pier Plaza into the beautiful Pacific Ocean. The pier offers year-round fishing and breathtaking sunsets from 6 am to 10 pm. Don't worry though, once the pier closes there is still plenty to enjoy nearby!
See A Show at the Comedy & Magic Club
Once you've filled up on sunshine and fantastic food at Pier Plaza, walk down Hermosa Avenue to The Comedy & Magic Club for some of the best comedy in Southern California.
The Comedy & Magic Club is home to local talent as well as nationally known names like Jay Leno and Ray Romano, and the size of the club allows for a large energetic crowd while never losing the intimacy of a club. The Comedy & Magic Club has shows Tuesday through Friday at 8 pm as well as on Saturday at 6 pm and 8 pm and on Sundays at 7 pm, but these times could change so make sure you check the listings ahead of your visit! 
You should also check the listings ahead of time so that you can reserve your tickets in advance. Although the club is spacious enough to fit a large crowd, demand often soars, so make sure that you reserve your tickets online or call ahead of time! 
Enjoy Pier Plaza Restaurants
Whether you're looking for breakfast, dinner, or something in between, Pier Plaza has a restaurant for you!
If you're looking for breakfast then you can walk just outside of Pier Plaza to Good Stuff Hermosa Beach for a delicious and healthy breakfast, or if you want a beer and a satisfying lunch then look no further than Tower 12 in Pier Plaza. If you're hunting for dinner and a show, then head to where Hermosa Beach's visitors and locals have been going since 1949 at The Lighthouse Café for excellent food and live music.
Walk The Strand
Relaxing looks different to everyone, and if your idea of a relaxing sunset is a walk along the shore then the Strand at Hermosa Beach is made for you.
Although the Strand stretches the length of the shore at Hermosa Beach, there is no better place to start and end your walk than at Pier Plaza. Thanks to the slow zones in the area that require anyone riding bikes or scooters to dismount and walk, you can be sure that you'll have a safe and easy time stepping on the Strand.
Plus, once you're done walking and are ready for a nightcap or bite to eat, you'll have the restaurants and bars at Pier Plaza to choose from as well as plenty of shops and sports stores.
Be the first to comment...