Here's Why You Should Try Stand Up Paddleboarding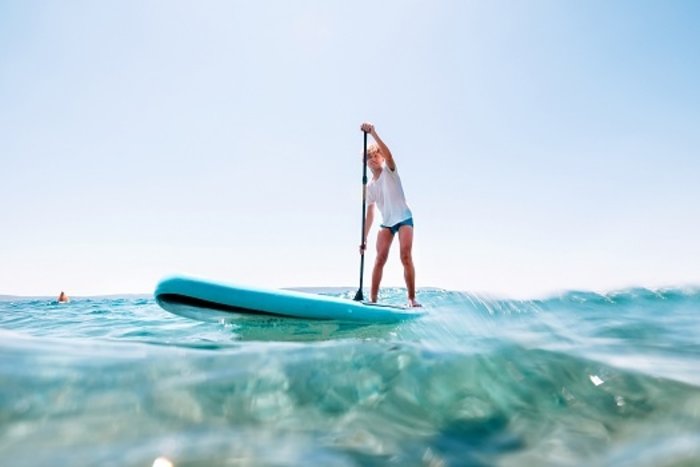 Stand up paddleboarding is one of the most popular water sports in the world, and there's no better place to get your feet wet than sunny Hermosa Beach, where the weather is perfect and the beach is incredible. Paddling on your board is a perfect way to slow down and appreciate the beauty of your surroundings, and it also provides a mix of cardio and strength training you can really enjoy. Are you interested in learning how to stand up paddleboard but you're afraid to try it alone? The water sports experts from Beach Bound Sports, the premier shop for SUP rental Hermosa Beach visitors trust for high-quality equipment and everything they need to get out on the waves, list a few reasons you should try this fun sport.
Get a Great Workout
Stand up paddleboarding provides a terrific all-around body workout, providing both aerobic and strength-based exercise for all the major muscle groups, including the upper body, legs, and core. When you paddle through the water, you'll use your arms, shoulders, knees, and quadriceps to move forward, and you'll use your leg and core muscles to maintain your balance. 
Even casual paddling can burn about 430 calories per hour. It's also a low-intensity activity, so it feels more like fun than working out. Stand up paddleboarding is simple to learn, and it's perfect for people of all shapes, sizes, and fitness levels, so just about anyone can get on a board and learn to ride the waves in no time.
Relax & Enjoy Nature
Stand up paddleboarding has a variety of holistic benefits in addition to exercise. It's also a great way to escape the daily grind. You can slow down, go at your own pace, immerse yourself in the serene beauty of nature surrounding you, and let all your tension melt away. With water all around you, the fresh ocean breeze caressing your face, and the sun on your skin, you'll be able to surrender to Mother Nature's meditative pleasures. It's also easier to learn than other water sports, such as surfing, so it's the perfect way for people to ease into water-based exercise. 
The best kinds of workouts combine exercise with time to chill, and stand up paddleboarding is the perfect blend of the two. Whenever you start to feel tired while you're paddling, you can just sit or lie down on your board and soak up the sun, cool down with a splash of water, or dive in for a soothing swim. 
If you want to stand up paddleboard at Hermosa Beach but you don't have your own board with you, don't worry—Beach Bound Sports is located right near the beach. Whether they need towels, coolers, water bottles, or Hermosa Beach SUP rental, visitors can find what they're looking for in our convenient shop. We're dedicated to providing excellent service and optimal convenience so you can spend your time enjoying the beach. For information about our services and products, give us a call today at 424-275-9115.
Be the first to comment...