Great Reasons to Visit Hermosa Beach for the Weekend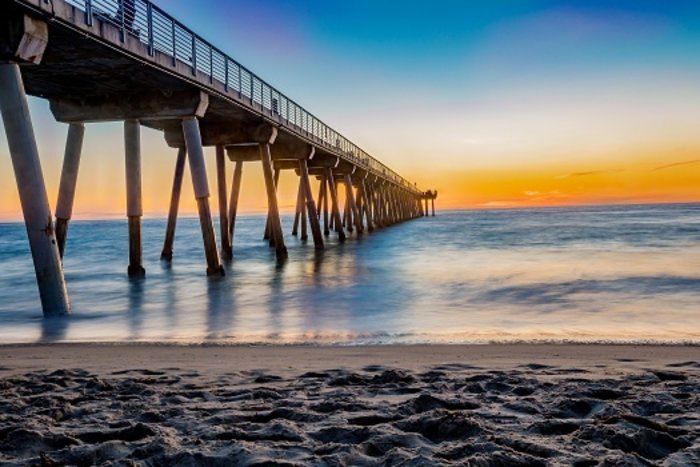 Located about 45 minutes southwest of downtown Los Angeles, Hermosa Beach is a perfect weekend getaway spot for anyone looking to take a break from the hustle and bustle of city life. This is just one of the reasons to spend all or part of the weekend here after your week winds down. Below, we present some additional reasons to make Hermosa Beach a preferred weekend destination.
Stroll along a Picture-Perfect Pier
For more than 50 years, this sprawling pier has been one of the most visible points of interest in Hermosa Beach. It's also a great place to take terrific photos. As you stroll on the pier, look for embedded bronze plaques commemorating well-known and popular local surfers.
Get Some Exercise on The Strand
Forget about hitting the gym for the weekend and get some exercise along The Strand instead. A good way to get in a productive yet fun weekend workout along this paved path is to walk, run, jog, or bike starting at the foot of the pier. You could then head north to Manhattan Beach, explore that area, and make your way back.Note: Bike rental shops are located near The Strand and the pier.
Go Shopping & Dining on Pier Avenue
The main artery in Hermosa Beach, Pier Avenue is a winding road where you can spend some of your weekend shopping and dining. Parking spaces are available on the avenue and at nearby locations. At the end of Pier Avenue is the pedestrian-friendly Hermosa Beach Pier Plaza, which is an especially popular area featuring a variety of shops and restaurants.Note: Outdoor gear can also be rented or purchased at some of the shops here if you have plans to be active in the water or on land during your weekend visit.
Hit the Beach
One of the most compelling reasons to spend the weekend in Hermosa Beach is the actual beach that's here. Spanning two miles, the sandy beach that shares its name with this beachfront city is a frequent gathering spot for families, volleyball enthusiasts, sunbathers, and anyone else with an appreciation for sun, sand, surf, and total relaxation. When they take advantage of nearby services such as chair and boogie board rental, Hermosa Beach visitors can enjoy the beach without having to bring along their own equipment.
Discover Uniquely Appetizing Dining Delights
Spending the weekend in Hermosa Beach means more than just fresh local seafood. This is also the place to go for craft brews, uniquely scrumptious pasta dishes, mouthwatering braised short ribs, delicious salads, and even sea salt, caramel, and butter pecan dessert options to satisfy your sweet tooth.
Enjoy Summer Concerts by the Beach
The south side of the Hermosa Beach Pier is one of the spots where free concerts are typically held throughout the summer. This is a perfect excuse to make plans to come to Hermosa Beach when there's a weekend concert that catches your attention. In previous years, free shows have included popular California bands, cover bands, and local artists. Community events also take place in this area throughout the year. 
If you're looking for a fun, relaxing way to spend a weekend, head to Hermosa Beach. When you get here, stop in and see the friendly folks at Beach Bound Sports, where you'll find everything you need to enjoy your seaside adventure. From Hermosa Beach bike rentals to water bottles, towels, beach umbrellas, and much more, we offer a huge variety of gear and services that can make your time in Hermosa Beach memorable. You'll be amazed by our exceptional service, unmatched convenience, and high-quality equipment. To learn more about how we can help you have a blast during your weekend at the beach, give us a call today at 424-275-9115.
Be the first to comment...