Getting Started with Stand-Up Paddleboarding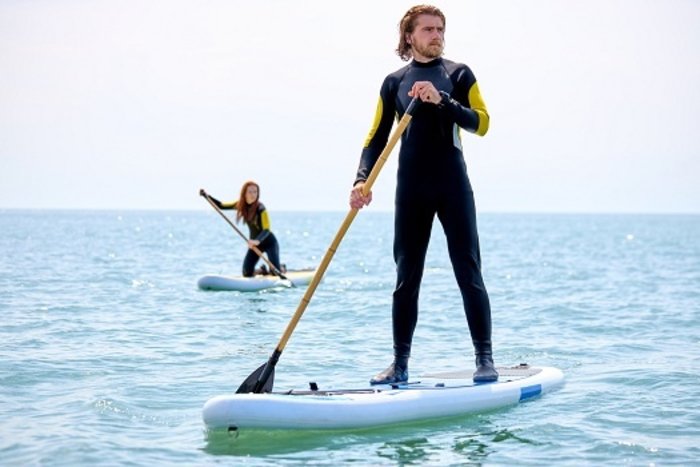 Paddleboarding is a fun way to spend your day at the beach. While some water sports require some degree of expertise, just about anyone can enjoy stand-up paddleboarding. Learning how to balance on the board doesn't take much time, and you can even have a child or dog ride along when the water is fairly calm. You can get ready to dive into a new adventure by knowing how to get started with using a stand-up paddleboard (SUP). Here are a few tips to get you going, brought to you by the friendly team from Beach Bound Sports, your one-stop shop for everything from beach toys to cooler backpacks and Hermosa Beach boogie board rental.
Pick the Right Paddleboard
Like many other water sports, you'll find there are multiple types of boards you can choose from to fit your needs. If you're new to SUPs, an all-around board will likely be all you need to get started. You can also find boards made for special activities such as yoga. Inflatable boards are another option offering portability. However, picking out a standard board at a local rental shop typically works best for travelers who need one designed for the local water conditions. You can also get help by making sure your board and paddle are the right size for your body type.
Learn How to Launch
SUPs are lightweight enough that launching is easy. Just reach down and pick up your board using the center handle. Then walk out into the water. Once you're about knee deep, get on your knees in the middle of the paddleboard. Don't forget to make sure you have your leash attached. Practice paddling in this position until you feel fairly comfortable with taking the next step.
Move to a Standing Position
Now that you have a good feel for how the board floats in the water, you're ready to try out the stand-up part of paddleboarding. Using your dominant leg first, move one foot into the place where your knee was once resting. Then do the same thing with the other foot. At this point, you should be in a low crouch or squatting position. Keep your heels flat and grounded on the board as you move into a stand. As you do so, you can also slide your hands into the proper positions on the paddle.
Maintain a Well-Balanced Stance
When you're standing, pay attention to how your body position helps you brace yourself as the board moves gently in the water. Try to keep your feet hip-width apart, and bend your knees slightly. Make sure to keep your core engaged, and try to paddle using this muscle group. You'll save your arms from bearing the brunt of the stress from paddling and find that your energy level stays higher.
Practice Your Strokes
The basic forward paddling motion is relatively simple. If you're paddling on the right, put your left hand at the top of the grip and your right hand on the shaft of the paddle. Then put the paddle in the water as far as you can and pull it back toward your feet. Once there, pick it up and repeat the process. Next, you can move on to the reverse and sweep strokes to help you move across the water better.
If you find yourself at Hermosa Beach without the essentials you need for paddleboarding, don't worry—Beach Bound Sports is located right near the beach. Whether they need towels, coolers, water bottles, or paddleboard or bike rentals, Hermosa Beach visitors can find what they're looking for in our convenient shop. We're dedicated to providing excellent service and optimal convenience so you can spend your time enjoying the beach. For information about our services and products, give us a call today at 424-275-9115.
Be the first to comment...