Is Stand-Up Paddleboarding a Good Workout?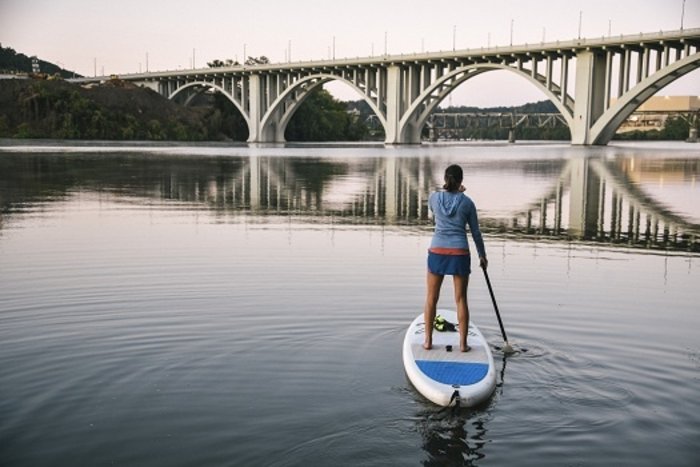 Paddleboarding looks so relaxing that it might be difficult to believe you could get a good workout from paddling your way across the water. While the process of paddleboarding is pretty simple, the truth is you'll likely find yourself feeling refreshingly tired after you get done. Stand-up paddleboarding offers several benefits for physical fitness that can help you feel good about choosing this fun activity at the beach. Here are just a few, brought to you by the friendly team from Beach Bound Sports, your one-stop shop for everything from beach toys to cooler backpacks and Hermosa Beach SUP rental.
Get Ready to Burn Some Serious Calories
If you've been packing in some extra calories during your vacation by trying out all the top restaurants in Hermosa Beach, you might be looking to do something active. Beginner paddleboarders can expect to burn around 300 to 400 calories an hour. Advanced paddleboarders can burn even more, with some racers using more than 1,000 calories an hour. While the average person won't hit that number, it gives you something to aspire to.
Strengthen Your Core Muscles
Good balance is a critical component of having a successful paddleboarding adventure. You'll need to use your core muscles to keep the board stabilized as it gets hit by waves. After going paddleboarding for the first time, you may notice you've given your abdominal and back muscles a good workout. If they're a little sore, don't worry. Going back out on the water again the next day can help tight muscles loosen up again.
Build More Arm Strength
The muscles in your arms, shoulders, and upper back are the primary muscles you'll need to push the paddle through the water. The repetitive motions you use for paddling push these muscles to their maximum capacity, and you can reduce or increase how much of an arm workout you get by choosing where you want to paddle. If you're eager to get a heavy workout in, just paddle against the current. Otherwise, you can choose a calm body of water that lets you paddle at a leisurely pace.
Plan an Inclusive Workout
When you pick a workout, you might need to think about other people in addition to yourself. Families sometimes struggle to find a workout everyone can enjoy, and paddleboarding is often the answer. Older kids can paddle their own boards, or you might choose to have your younger kid ride along on yours. Seniors and people with disabilities can also typically find a way to enjoy the sport while staying safe and comfortable.
Remember to Warm Up & Cool Down
The idea of hitting the water might be so exciting that you just want to run out and get started. However, remember that paddleboarding is just like any other form of exercise. Doing a few stretches before you get on the board prevents sore muscles later, and you'll want to do a little cooling down before you jump into your car. Try taking a walk along the beach after your ride to let your heart rate slowly go back to normal. 
If you find yourself at Hermosa Beach without the essentials you need for paddleboarding, don't worry—Beach Bound Sports is located right near the beach. Whether they need towels, coolers, water bottles, or paddleboard rental, Hermosa Beach visitors can find what they're looking for in our convenient shop. We're dedicated to providing excellent service and optimal convenience so you can spend your time enjoying the beach. For information about our services and products, give us a call today at 424-275-9115.
Be the first to comment...