Does Hermosa Beach, CA, Have a Good Beach to Visit?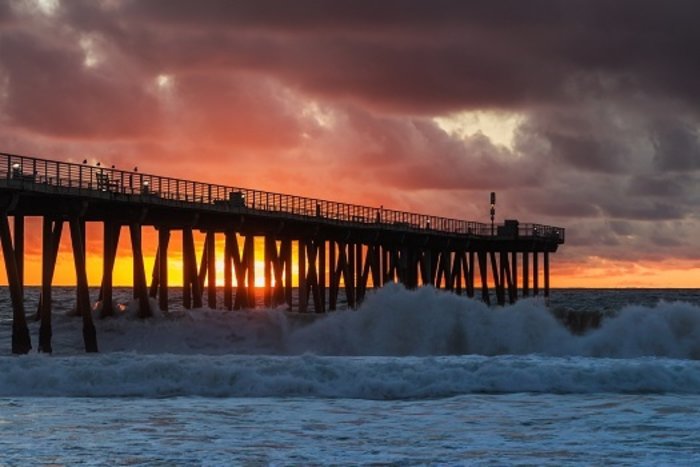 When you're in sunny Southern California, you'll probably end up wanting to make at least a few trips to the beach. There are several different beaches to choose from, so it can be difficult to settle on a destination. Hermosa Beach is one of the largest and most popular beaches in the area, but many travelers wonder how it compares to smaller, less famous beaches. Here's what you need to know about Hermosa Beach.
Plenty of Fun Attractions
The heart of the beach is the Hermosa Beach Pier. This pier stretches out over the ocean and provides stunning views. A wide range of fantastic restaurants, fun bars, and interesting shops are situated around the beach. The region has great nightlife, so there are plenty of beach bars, night clubs, and live music venues. Hermosa Beach is also home to a wide range of events, including a variety of arts and crafts festivals, surfing festivals, and concerts.
Lots of Places to Stay Nearby
Hermosa Beach isn't extremely touristy, but much of the city's income does come from people vacationing in the town. Therefore, the beach has a lot of beautiful hotels and guest homes to choose from. Unlike what's the case with many other California beaches, there are actually some hotels right on the beach. There are also quite a few spots where you can stay that are just a short walk from the beach. The town itself is fairly small, so most locations are just a quick bike ride away, and Hermosa Beach bike rentals are readily available at several nearby shops.
Exploring the Natural Wonders of the Beach
The beach is a classic Southern California beach, with golden sand and medium-sized waves. The weather is usually very pleasant, with average temperatures staying around 70 degrees and most days remaining quite sunny. Hermosa Beach gets a lot of westerly sea breezes, so it's often a little cooler and has less smog than nearby Los Angeles. Tidal patterns result in smooth, even waves that work well for activities like surfing and paddleboarding. The beach itself is a little wider and flatter than other California beaches, so it's ideal for volleyball, running, cycling, and other sports.
Hermosa Beach vs. Manhattan Beach & Redondo Beach
Hermosa Beach is situated along a stretch of California coastline with many other beaches, so it's helpful to see how it compares to nearby spots. Manhattan Beach is a fairly nice beach situated in an affluent community. It tends to have more high-end restaurants and shops, and the atmosphere is more staid. For those who prefer nightlife or relaxation, Hermosa Beach is a better option. 
Redondo is a more sprawling area with less of a beach-town vibe. Most of its coast is a harbor, not a public beach, so there are fewer spots to swim or enjoy nature.
If you're visiting Hermosa Beach and you find yourself without proper beach gear, stop in and see the friendly folks at Beach Bound Sports for whatever you need. From bodyboards to cooler chairs to pet trailers, we have everything you need to enjoy your best beach day ever. We pride ourselves on our amazing service, brand-new high-quality equipment, and convenience that allows beachgoers to spend more of their time beachside. For the finest in beach rental, Hermosa Beach, CA, visitors should stop by or call us today at 424-275-9115.
Be the first to comment...