Beach Volleyball for Beginners: Tips from Beach Bound Sports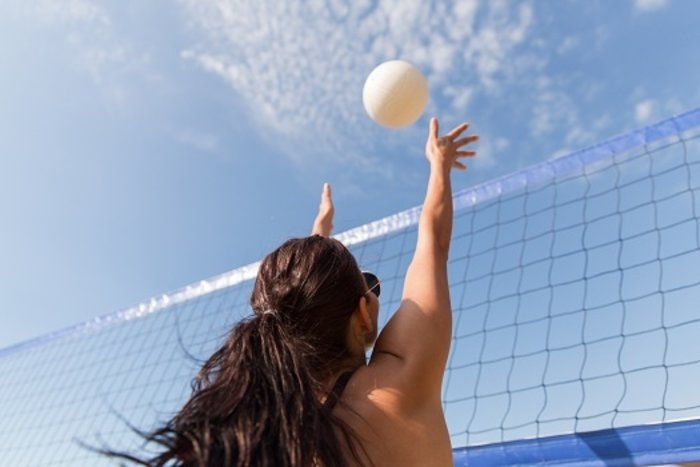 Beach volleyball was born in the 1920s on the beaches of Santa Monica, and it continued to gain popularity for decades, finally hitting its stride in the US in the 1980s. Beach volleyball was played as a demonstration event in the 1992 Summer Olympic Games in Barcelona, and it debuted as an official Olympic sport during the 1996 Atlanta games. 
If you're looking for a great sport for people of all skill levels that allows you to play in the sun and sand, you can't go wrong with beach volleyball. If you're a beginner, you'll need to start by learning the basics of the sport. The friendly team from Beach Bound Sports explains some of the fundamental principles of beach volleyball as well as some tips that can help new players enjoy the game from the very first serve.
The Setup
In beach volleyball, there are two players on each side. The typical sand court measures 26'3" by 52'6", which is smaller than an indoor volleyball court. The main difference between an indoor court and a beach volleyball court is the surface. Beach volleyball games are played on sand, so your movements will be slower and you won't be able to jump as high. Sand is challenging to move on, so you'll tire out more easily. If you want to build up your endurance so you can play beach volleyball for longer periods and with greater skill, try running and practicing lateral moves on the sand.
Equipment
Of course, the most essential item you'll need is a volleyball. If you don't want to buy a volleyball until you're sure you'll be playing the sport often, you can easily rent one from a shop that offers beach rental. Hermosa Beach has quite a few shops close to the beach where you can rent a volleyball for the day. 
Since you'll be moving on the sand and playing in the hot sun, it's essential to wear the right clothing when you play beach volleyball. Many players choose loose, breathable clothing, such as shorts and tank tops, which can help you stay cool and move more easily. It's also a good idea to wear sunglasses and a hat to protect against the sun's rays. 
A lot of beach volleyball players choose to play barefoot, but the sand can get extremely hot and burn your feet. You can avoid burning your feet by wearing sand socks, which can also keep your feet cooler and help you get better footing in the sand.
Basic Rules
The basic rules for beach volleyball are the same as those for indoor volleyball. Your team is only allowed to touch the ball three times to return it, and when the ball hits the ground, the other team scores a point. No player can hit the ball multiple times in a row. Players can use any part of their bodies to return the ball. They can even kick the volleyball, but it's illegal to throw, hold, or catch the ball, and a player must serve with his or her arm.
A player puts the ball into play by standing behind the rear boundary of the court and serving it over the net. Play continues until the ball hits the ground, goes out of bounds, or isn't properly returned. The team that wins the point serves to start the next rally.
A match consists of three sets: the first two are played to 21 points, and the last one is played to 15 points. Following every seven points in a set, teams switch sides to the opposite side of the net. A team has to win two sets to win the match. The last set is called the tiebreaker, and it can only be won if one team scores two points more than the other. 
If you're looking for a fun way to spend your day at Hermosa Beach, try your hand at beach volleyball. When you get here, stop in and see the friendly folks at Beach Bound Sports, where you'll find everything you need to enjoy your seaside adventure. From volleyballs and footballs to Hermosa Beach bike rentals, water bottles, towels, beach umbrellas, and much more, we offer a huge variety of gear that can make your day at Hermosa Beach memorable. You'll be amazed by our exceptional service, unmatched convenience, and high-quality equipment. To learn more about how we can help you have a blast at the beach, give us a call today at 424-275-9115.
Be the first to comment...