Advantages of Using Inflatable Stand-Up Paddleboards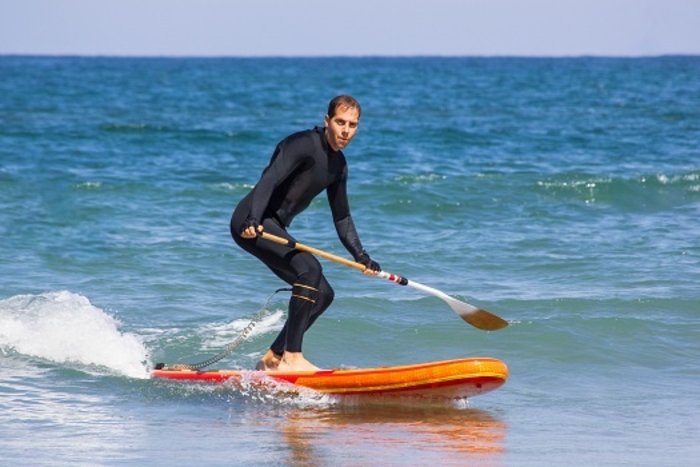 Paddleboarding is a fun way to experience your favorite aquatic areas in Southern California, and this family-friendly activity is even safe for bringing your pup along. As a beginner, one of your first questions may be whether you should go for a traditional hard paddleboard or an inflatable one. There are definite reasons to use each type, but inflatable stand-up paddleboards offer several benefits that are especially helpful for beginners and anyone who travels. The friendly team from Beach Bound Sports, your one-stop shop for everything from beach toys to cooler backpacks and Hermosa Beach SUP rental, explain why you should consider using an inflatable board.
You Can Take Them on Public Transportation
Hard paddleboards are fairly unwieldy, and it can be difficult to take one in a car without having some type of mounting device on the roof or back. Inflatable paddleboards pack down to no bigger than an overstuffed duffle bag. This means you can take your paddleboard on a bus, stash it in the trunk or back seat of a taxi, and even check it as baggage at the airport. If your plan is to rent a paddleboard and explore a new area, an inflatable one is the way to go. You'll also find it convenient to be able to wheel or carry your paddleboard along if you want to enjoy dining out for lunch after a morning trip out on the water.
They Only Take a Few Minutes to Inflate
You'll also find it easy to set up your paddleboard and get started enjoying your vacation right away. The best inflatable boards take only five minutes or less to inflate. You'll also find the process of deflating your board and putting it back in its case just as easy.
They're Easier to Paddle
These boards are lighter than their hard-bodied counterparts. The surface of the paddleboard is also slightly more forgiving than a harder top, which means your feet and legs will tire less easily. Being able to paddle along without excessive fatigue helps you enjoy your time on the water more.
They're More Forgiving if You Fall
Until you earn your sea legs, you can bet you'll occasionally take a tumble into the water. Even experienced paddleboarders are aware they could slip and fall at any time, especially when unexpected waves come their way. An inflatable version is safer to fall on, since the surface will give slightly and absorb the force. This makes it a better option for children and anyone who isn't sure of how well they'll balance on a board for the first few times.
They're Quite Rugged
An inflatable paddleboard is made from thicker, more durable material than the types of water rafts and toys you may play with in your neighborhood pool. Their thick material resists punctures, and they can even survive blows that might leave a dent or hole in a hard top. Feeling secure about your paddleboard helps you feel confident as you explore your abilities with a new water sport.
If you find yourself at Hermosa Beach without the essentials you need for paddleboarding, don't worry—Beach Bound Sports is located right near the beach. Whether they need towels, coolers, water bottles, or paddleboard rental, Hermosa Beach visitors can find what they're looking for in our convenient shop. We're dedicated to providing excellent service and optimal convenience so you can spend your time enjoying the beach. For information about our services and products, give us a call today at 424-275-9115.
Be the first to comment...