7 Must-Have Items for Beachgoers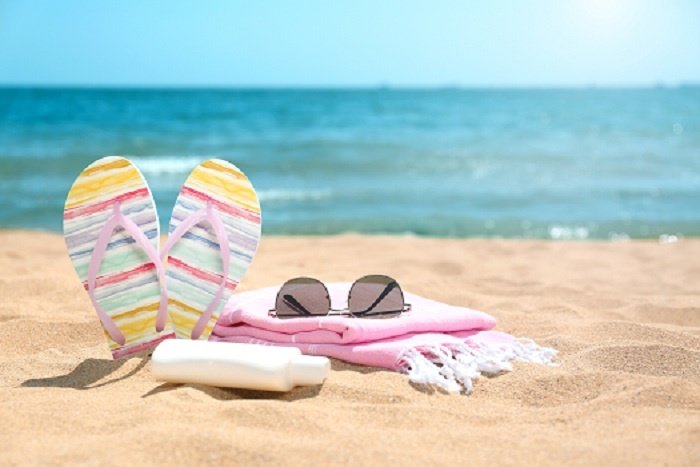 Going to the beach can be the ideal way to spend a fun, relaxing day. However, if you want to have the best day possible, it's important to plan ahead. Bringing a few basic items with you can ensure your beach day goes as smoothly as possible.
1. Bottled Water
Even if you aren't the type of person to pack a full meal when you go to the beach, remember to bring some water. Water is essential because it's very easy to get dehydrated on a hot beach. Don't rely on places near the beach having drinks available, since restaurants could be closed and public water fountains could be out of order. 
2. Sunscreen
Due to all the sand and water at the beach, sun rays get reflected all over the place. People can still get burned even if they're sitting under an umbrella or wearing clothes. Therefore, sunscreen is an absolute must-have. Get one with an SPF of at least 30, and try to reapply it every couple of hours.
3. A Chair or Blanket
You don't want to end up sitting in the sand at the beach. If possible, bring a comfy lounge chair. For those who prefer to travel light, consider a sheet or lightweight blanket. You can toss it over the sand and stretch out without getting all sandy. 
4. Comfy Clothes
For most people, a swimsuit is an essential part of any trip to a beach. There are plenty of other clothing items to bring along too. Most people will benefit from waterproof sandals that can be rinsed off, lightweight clothing to pull over their suits, and hats to block the sun.
5. Something to Do
As beautiful as the beach is, most people won't spend all their time just staring at the waves. Therefore, it's a good idea to consider whether you want to bring anything entertaining with you. If you're active, a frisbee or a beach game can be a good idea. For those who like to lie back and relax, a good book or a playlist with your favorite songs can be fun. If you get restless and want to explore the area on two wheels, simply head to Beach Bound Sports for a high-quality Hermosa Beach bike rental. 
6. A Towel
If you forget this beach essential, you might end up having to sit in soggy clothes on your way back to your house. Even if you don't plan on swimming, make sure you bring a towel to the beach. It can be useful for drying off after a random bit of ocean spray hits you or brushing sand off your feet at the end of the trip. 
7. A Roomy Tote Bag
When you go to the beach, you don't want to end up juggling all your belongings or having to dig through a purse to find things. Instead, make sure you bring a big tote bag. This lets you easily sling your belongings over your shoulder and go for a leisurely stroll.
If you find yourself at Hermosa Beach without some of these essentials, don't worry—Beach Bound Sports is located right near the beach. Whether they need towels, coolers, water bottles, or chair rental, Hermosa Beach visitors can find what they're looking for in our convenient shop. We're dedicated to providing excellent service and optimal convenience so you can spend your time enjoying the beach. For information about our services and products, give us a call today at 424-275-9115.
Be the first to comment...