6 Suggestions for Beginning Surfers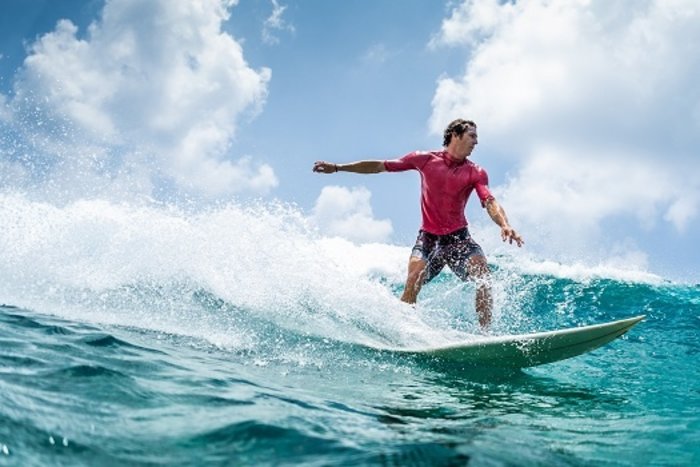 Going surfing is a dream many people hope to achieve at least once in their lives. Whether your goal is to become an advanced surfer or you just want to mark it off your bucket list, it helps to know what to do when you're ready to hit the waves. Naturally, you'll want to make sure to start your surfing adventure by bringing a few other people along. This helps everyone look out for each other's safety. You'll also want to follow these tips for making sure your first attempts at surfing are a success.
1. Pick the Right Location
As a beginner surfer, one of the best things you can do is choose the right place to start learning your new skills. Hermosa Beach is known for having plenty of places for beginners to go, and you'll find it easier to stay on your board when you pick out a spot with a steady stream of smaller waves. As your skills progress, you can upgrade to an area of the beach that matches your abilities.
2. Start with a Larger Board
Surfers typically go through several boards until they find their preferred style. Beginners tend to do best on larger boards that have a higher degree of flotation. You may also prefer a soft-topped board that's easier on your body when you spend more of your time sitting on it. Renting a board is a great way to try out different types until you settle on one that fits your preferences as an intermediate surfer. For a wide selection of high-quality surfboards, Hermosa Beach visitors should stop by and see the friendly folks at Beach Bound Sports.
3. Plan a Few Workouts on Dry Land
If you've never surfed before, you might be surprised to discover just how many muscles you'll use on even a beginner's trip out on the water. Before your first surfing session, consider making a few visits to the gym to start building your core, arm, and leg muscles. Surfers also benefit from increasing their flexibility, so make sure to do some stretches before every session.
4. Learn Each Step
The average person doesn't just stand up on a board and immediately start riding the waves. Instead, beginner surfing lessons often start with the most basic moves. You'll want to start off just sitting on your board to get a feel for how it moves in the water. Then you can start working on the prone position and eventually move to the pop-up.
5. Practice Your Wipeout
Every surfer wipes out, and you'll benefit from learning how to fall the right way. Practicing your wipeout helps you address any fear of the water you may have. You'll also be ready when you have a wipeout with a major wave.
6. Keep at It
Surfing is challenging, and you'll find some days go better than others. The water conditions, your energy level, and even the number of other people surfing around you can all affect how well a session goes. Surfing is all about maintaining the right attitude, and learning to go with the flow helps you stay relaxed and ready to give it your all during every session.
Surfing is one of the best ways to enjoy your time at the beach, and it's easier to do it safely if you follow these tips. Before you hit the sand and surf, stop in and see the friendly folks at Beach Bound Sports, the experts on the very best ways to enjoy Hermosa Beach. From water bottles to coolers, towels, and surfboard rental, Hermosa Beach visitors will find everything they need at our convenient shop. To learn more about how we can help you have a blast at the beach, give us a call today at 424-275-9115.
Be the first to comment...