6 Great Reasons to Visit Hermosa Beach for the Day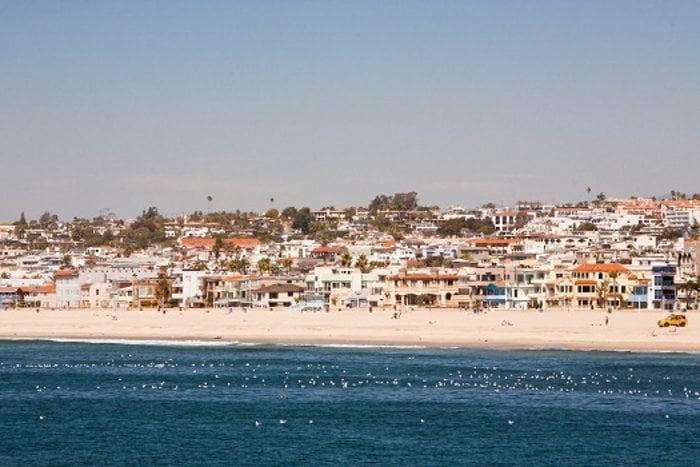 It's not much of a surprise that a top reason many people come to the city of Hermosa Beach is the actual beach that shares this California community's name. It's also not much of a stretch to assume if you're an outdoor lover, you'll be in for a treat when visiting the beach here. Below, you'll find six reasons to add "spending a day at Hermosa Beach" to your summer to-do list.
1. Strolling the Pier
Built in the 1960s, the 1,100-foot-long pier is easily the most prominent beach-adjacent feature. It's a perfect place to take a relaxing stroll as you enjoy a full unobstructed view of the Pacific Ocean while spending the day here. You're also welcome to fish from the pier.
2. Surfing Manageable Waves—with or without a Board
A day at Hermosa Beach will go by faster than you expect while you're surfing waves that are generally consistent and manageable. However, you can check the surf report at Magicseaweed.com before you go. If you're so inclined, you can even ditch your board and spend some of your day bodysurfing. On a related note, Hermosa Beach is also home to a popular annual surf festival.
3. Swimming with Lifeguards on Duty
Grab your preferred swim attire and enjoy a day of swimming at Hermosa Beach. Lifeguards are on duty for your added peace of mind and safety. Plus, the waters here are typically inviting for swimmers of all skill levels and ages.
4. Playing Volleyball with Sand Under Your Feet
There's no official sport of Hermosa Beach, but if there were, volleyball could very well be it. The city-owned beach has plenty of space to enjoy an invigorating game of volleyball with soft sand under your feet. Games can be completely casual thanks to the many nets already set up here. You could also come back for another visit during the volleyball tournaments regularly held in the area.
5. Getting What You Need when You Get Here
Regardless of what your beach activity plans are, it's possible to pack light when coming to Hermosa Beach, since you can generally rent what you need locally as far as equipment goes. This means you don't have to worry about packing a bunch of extra accessories if you'll be driving or simply walking here because you can take advantage of various types of beach rental. Hermosa Beach shops may also have more up-to-date equipment than what you currently have or use.
6. Having Access to Nearby Amenities
If you need another incentive to spend the day at Hermosa Beach, consider just how convenient it is to come here and stay awhile. Metered street parking is available, and it's just as easy to walk to the beach. Other amenities in the area that can make a day at Hermosa Beach even more memorable and enjoyable include:
• Easily accessible showers
• Playground equipment
• Nearby restaurants
If you're looking for a fun, relaxing way to spend your day, head to Hermosa Beach. When you get here, stop in and see the friendly folks at Beach Bound Sports, where you'll find everything you need to enjoy your seaside adventure. From Hermosa Beach chair rental to water bottles, towels, beach umbrellas, and much more, we offer a huge variety of gear that can make your day at Hermosa Beach memorable. You'll be amazed by our exceptional service, unmatched convenience, and high-quality equipment. To learn more about how we can help you have a blast at the beach, give us a call today at 424-275-9115.
Be the first to comment...