5 Ways to Have An Eco-Friendly Beach Day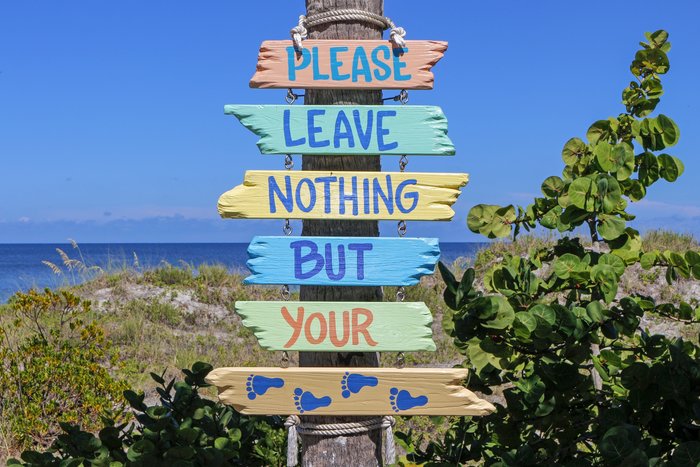 5 Ways to Have an Eco-Friendly Beach Trip
Each visit to Hermosa Beach is different, but they all end with everyone wanting to come back again as soon as possible.
We know how lucky we are to call Hermosa Beach home here at Beach Bound, so we also know how important it is that everyone who visits does their part to make sure Hermosa Beach is just as beautiful tomorrow as it is today! To help you do that on your next Hermosa Beach visit, the Beach Bound team has listed 5 best practices to make sure your visit is eco-friendly.
Read all about it below before your next beach trip!
Leave No Trace
If you're ever in doubt of the best way to enjoy the beach while protecting it, then refer to the Leave No Trace principle. 
The basics of Leave No Trace are as simple as the name implies. Don't leave any trash, food, or belongings at the beach. However, Leave No Trace also means leaving the smallest footprint (figuratively and literally) wherever you visit. For example, for beach visits that means not taking seashells, sand, and other pieces of the environment home as souvenirs.
In most cases leaving no trace is as simple as taking all your trash with you when you leave the beach for the day, so remember, when in doubt, pack it out!
Wear Reef Friendly Sunscreen
Yes, even your sunscreen can affect the environment!
Most sunscreens use chemicals to protect your skin from the sun, and when you get into the water those chemicals go in with you. You may assume that the effect from those chemicals would be small since the ocean is massive and has enough water to dilute them. However, when hundreds of people add small amounts of chemicals to the water day after day in a concentrated area the damage can be much greater than you would ever imagine, especially when there are reefs nearby.
For that reason, we recommend wearing reef friendly sunscreen that protects your skin from the sun with minerals instead of chemicals!
Reduce Your Footprint
You can be kind to Hermosa Beach even when you're not on the sand!
Consider biking or walking around Hermosa Beach instead of driving. Whether you carpool to and from the beach or decide to bike around town instead of driving, everything helps. Not only will you reduce the footprint you leave behind, but you'll also only have to find parking once!
Of course, it's easier when Beach Bound offers Hermosa Beach's fastest and easiest bike rentals and the Strand runs all along the beach!
Reuse When Possible
It's no secret that many single-use plastics often end up in the ocean, so avoid bringing them to the beach if possible!
Reusable bottles and hydro flasks are not only more reliable, but they're also significantly better for the environment than plastic single-use bottles. You don't have to stop with your water bottles though, because reusable coolers and containers that you'll be able to use for years are also much better for the environment than single-use Styrofoams. 
Make a long-term Investment in your beach gear and you'll save money and help protect the Hermosa Beach environment, or you can rent beach coolers, umbrellas, and chairs from Beach Bound!
Respect Wildlife
Even if you don't see any wildlife in the water during your visit to Hermosa Beach, following the principles above will go a long way towards protecting it!
You can also protect the wildlife you do see, such as birds and crabs, by not leaving food outside of trashcans and by not feeding them!
Be the first to comment...