5 Surf Fishing Basics You Need to Know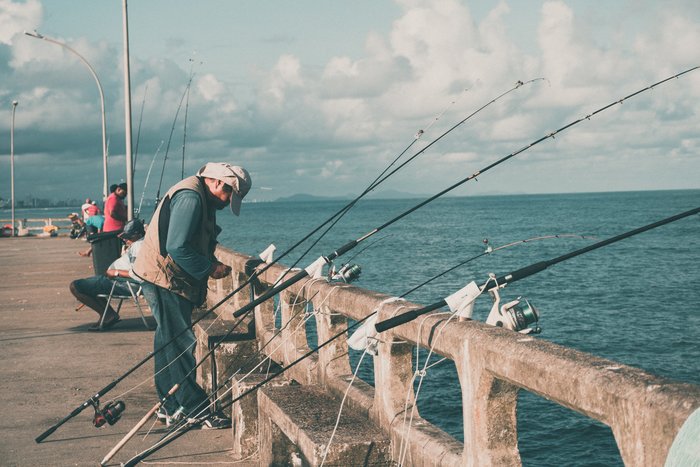 5 Surf Fishing Basics You Need to Know
Some people fish for food, some people fish for sport, but no matter what type of fishing you do you'll never find somewhere that combines excellent water, a beautiful shore, and a community with everything you need to fish like Hermosa Beach does.
The Beach Bound team wants everyone who visits Hermosa Beach to love it just as much as we do, and if relaxing at Hermosa Beach means getting in the water and casting a line then we want to help you! That's why we've put together a list of basic tips for surf fishing below. Check them out ahead of your visit and stop by the Beach Bound shop for the best beach and bike rentals in Hermosa Beach!
Get a Beach Wagon for Your Gear
There's nothing relaxing about finding parking, unloading your fishing gear, and then struggling to carry it across the beach. 
Fishing takes patience after all, and if you are frustrated before you even get to the water then your patience will run out much faster. That's why we recommend using a beach wagon to move your rods, tackle, and other fishing gear across the sand at Hermosa Beach or any beach you're fishing at.
Beach Bound makes renting a beach wagon easy so you can get to the water faster!
Scout the Water Ahead of Time if Possible
Knowing where underwater features like trenches and rocks are is key to fishing successfully, but since they're underwater, you're probably wondering how anyone knows where they are.
Thanks to low tides, you'll have a chance to see what the ocean floor looks like if you have the time to scout the shore ahead of time. While the ocean floor may not be completely uncovered, you'll still be able to see large features that attract fish when the tide returns. 
Choose the Right Time for What You're Fishing For
Some fish prefer the cloudy waters that come with strong swells. Some don't come into shore unless the high tide pushes them there. Some will only be near shore when there are bait fish in the water.
You can cast a line at any time, but knowing the conditions that the fish you're fishing for likes will go a long way towards a successful day of surf fishing. This can be as simple as fishing during high tide when bait fish are pushed towards the shore and predatory fish follow them, or it can mean tracking a storm system offshore so you know when a strong swell will cause cloudy waters that make fish feel safe near the shore. 
Cast Around Bait Fish in the Water
Small schools of bait fish are often tracked by larger predatory fish, so if you see one in the waves near the shore then you know where to cast your line.
The best tactic is to cast around the edges of the bait fish to attract a predator who is lurking there for an easy meal. Of course, you must have the right bait to get the predator's attention, so make sure you know what attracts fish in the waters you're fishing in.
Clean UP After Surf Fishing
While surf fishing is fun, it's not always the easiest to clean up! Make sure to clean up your area and your gear after surf fishing.
Surf fishing gear is an investment, and the best way to protect your investment from corrosion and other damage is by cleaning it off after you leave the water. Don't forget to protect yourself from the sun with proper clothing and plenty of sunscreen too!
Be the first to comment...