5 MUST-SEE Attractions in Hermosa Beach, CA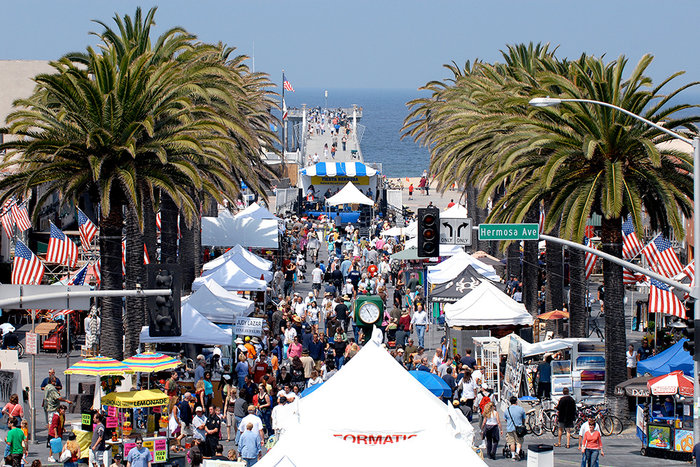 5 Must See Attractions at Hermosa Beach
Between the beach, community, and nightlife, it's hard to go wrong with whatever activity you choose for your Hermosa Beach visit. Still, having that many choices can be overwhelming so we're here to help!
The Beach Bound team is here to help make your trip to Hermosa Beach as easy as possible. Whether that means offering the fastest and easiest bike and beach rentals in Hermosa Beach or listing five of our favorite Hermosa Beach attractions like we have below, we're here for you! Check out our list and come see us at the Beach Bound Shop for all your beach needs!
1. Hermosa Beach Pier and Hermosa Beach
No visit to Hermosa Beach is complete without a visit to the Pier which has stood out into the Pacific Ocean in its current form since 1965. 
You can simply walk all 1,140 feet of the pier, fish the Pacific from it, or enjoy sunset on the water. No matter what you do, you're sure to have a beautiful view of the ocean! Plus, after you visit the pier there is always something to do nearby. You can play on Hermosa beach in the morning, grab lunch at nearby restaurants during the afternoon, and enjoy Hermosa Beach's fantastic nightlife after the sun goes down.
2. The Strand
 Walking or biking along the beach is one of the best ways to enjoy the sand, waves, and sights of the coast, but Hermosa Beach also offers the option of enjoying the beach from a paved path nearby called The Strand.
The Strand is a paved walking and biking path running the entire length of Hermosa Beach. The Strand is easier to walk, run, or bike on than the beach, and it's closer to Hermosa Beach's restaurants, shops, and other attractions. Don't have a plan when you arrive at Hermosa Beach? Walk or bike The Strand and you'll be sure to find something to do along the way. If you don't, then you'll at least have a beautiful walk!
3. Fiesta Hermosa
Every Memorial Day and Labor Day, downtown Hermosa Beach hosts the largest arts and crafts fair in Southern California, otherwise known as Fiesta Hermosa. 
Fiesta Hermosa celebrates everything great about Hermosa Beach by bringing hundreds of artists, restaurants, and musicians together for the enjoyment of locals and visitors alike. If you're unfamiliar with Hermosa Beach or are just looking for a fun place to be with a good crowd this Memorial or Labor Day, then visit Hermosa Beach and celebrate everything we love about our community! For more information about Fiesta Hermosa, click here.
4. The Lighthouse Café 
The Lighthouse Café has been a home for jazz in Hermosa Beach since 1949, and has hosted artists such as Chet Baker and Miles Davis and was even seen in the film "La La Land". Although the Lighthouse Café has serious history as a jazz club and live music venue, it's also an excellent place to stop for a bite to eat or cocktail after a long day on Hermosa Beach!
5. Surfers Walk of Fame
Surfing means so much more to Hermosa Beach than just the statue near the pier and the bronze plates that run up and down it.
Hermosa Beach's Surfers Walk of Fame is a place to honor the accomplishments and contributions of surfers as well as the key role surfing has played in Hermosa Beach's history and culture. Each year, new surfers are inducted and their names are added to plaques which are embedded in the pier. See how many you know while taking a walk down the pier!
Be the first to comment...